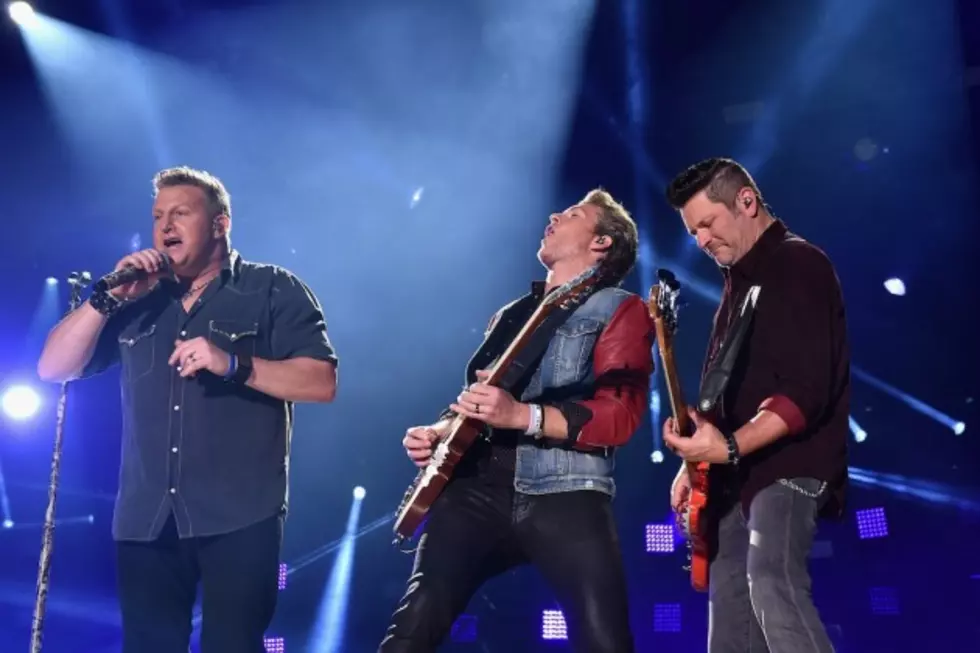 Top 10 Rascal Flatts Songs
Larry Busacca, Getty Images
Rascal Flatts -- Jay DeMarcus, Gary LeVox and Joe Don Rooney -- have seen much success since the trio's inception in 1999. The band boasts 10 studio albums and more than a dozen No. 1 songs, and they're the most-awarded country group of the past decade, with over 40 trophies from the CMAs, AMAs, ACMs and more to their name.
To round up just 10 of the Flatts' best songs is quite the feat, but here is The Boot's take.
10

"Prayin' for Daylight"

From: 'Rascal Flatts' (2000)

It's fitting that the Flatts' debut single, "Prayin' for Daylight," kicks off this Top 10 list. It was the first song they ever cut as a group, released in February of 2000, and DeMarcus says that it was the first song their former label, Lyric Street, ever heard them sing, becoming highly instrumental in their record deal. For the trio, the first time was the charm, as "Prayin' for Daylight" peaked at No. 3 on the Canadian country charts and stuck around for 31 weeks on the Billboard Hot Country Singles & Tracks chart, peaking at No. 1. "Prayin' for Daylight" not only put Rascal Flatts on the map in country music, it also solidified their place as an act that could do no wrong -- and it would be eight years before they dropped a single that didn't hit the Top 10.

9

"Why Wait"

From: 'Nothing Like This' (2010)

As any couple in love knows, sometimes you just know -- and when you know you want to be together forever, why wait another minute to tie the knot? The song's corresponding music video follows a story similar to that of the movie The Hangover and is equal in its humor and number of stars, with lots of cameo appearances by comedians and actors. "Why Wait," Rascal Flatts' first No. 1 on Big Machine and their first single from Nothing Like This, became their 11th overall No. 1 hit.

8

"Me and My Gang"

From: 'Me and My Gang' (2006)

Rascal Flatts' fourth studio album, Me and My Gang, was the best-selling country album of 2006 and was certified five-times platinum. Its title track gets fans on their feet during live shows: It's a rowdy, electric guitar-heavy, full-of-fun song, and with lyrics like, "Dude named Elrod / Jammin' on an iPod," in the mix, what's not to like?

7

"Rewind"

From: 'Rewind' (2014)

Rascal Flatts do love songs right, and "Rewind" is no exception. As their 33rd single and first from their studio album of the same name, "Rewind" (written by country duo Dan + Shay) proved that the trio is still in the game. DeMarcus tells USA Today that the song "felt like a good way to bridge the gap between familiar Rascal Flatts and a new era of Rascal Flatts." "Rewind" stays true to who the trio is as a group, with buttery-smooth vocals and intricate harmonies, while also pushing the envelope a bit into a new era for the band.

"I felt like, even more with this album, we had something to prove and a big statement to make," DeMarcus tells Taste of Country. "We love people that say they're influenced by us, but we're still in the game to win it, not to be one of the old guys left sitting around."

6

"Life Is a Highway"

From: the 'Cars' soundtrack (2006)

The debut of Pixar's Cars corresponded with a national frenzy over "Life Is a Highway," the Tom Cochrane song that the Flatts covered for the film's soundtrack. It won Favorite Song From a Movie at the People's Choice Awards in January of 2007 and earned the trio a platinum certification. As friendly to young ears as it is to grown-up ones, "Life Is a Highway" fit in perfectly with the movie's theme. Its popularity was instantaneous: "Life Is a Highway" became a Top 10 Billboard Hot 100 hit and zoomed up to No. 18 on country radio charts even though it was never officially released to country radio.

5

"Mayberry"

From: 'Melt' (2002)

The fictional town of Mayberry, N.C., from The Andy Griffith Show, is where this Rascal Flatts tune gets its name. "Mayberry" looks longingly at the easy-going life the town offered: Sunday was a day of rest, the small-town folks knew one another by first name, and you passed the time sitting on the porch and drinking cherry Coke. The 2004 crossover hit resonated with fans, sitting pretty at No. 1 on the country charts.

4

"I Melt"

From: 'Melt' (2002)

Co-written by LeVox, Wendell Mobley and Neil Thrasher, "I Melt" was red-hot with country fans, peaking at No. 2. "The closer you get, the more my body aches / One little stare from you is all it takes," the trio sings on this sultry, sexy and rather irresistible track. The music video for "I Melt" was more controversial: It was the first-ever video to show nudity on CMT, featuring a shot of guitarist Rooney's bare backside and model Christina Auria showering in the nude. It was a hot topic for more than one reason and was banned by GAC. However, fans were fired up about the video, shooting it up to No. 1 on CMT's Top 20 Countdown.

3

"My Wish"

From: 'Me and My Gang' (2006)

"My Wish" is not the type of song you'd sing to your biggest rival, but its message is one that promotes a good-hearted feeling among all. "My wish for you is that this life becomes all that you want it to / Your dreams stay big, and your worries stay small," begins the chorus, and any fan would find themselves feeling more lighthearted after a listen. "My Wish" was the third single from Rascal Flatts' Me and My Gang album and became one of the trio's most popular crossover singles, reaching No. 1 on the country charts and No. 28 on the Billboard Hot 100.

2

"What Hurts the Most"

From: 'Me and My Gang' (2006)

"What Hurts the Most," released in 2006, was a cover song, previously recorded by country music artist Mark Willis and later by pop singer Jo O'Meara. However, when the Flatts worked their magic on it, it became their fifth No. 1 and earned the group two Grammy nominations. It's quite possibly one of the saddest breakup songs we've heard, focused on lost love and "never knowing what could have been." The music video took it one step further, as the boyfriend in the song is killed in a car accident, making it truly a song about love lost ... forever.

1

"Bless the Broken Road"

From: 'Feels Like Today' (2004)

"Bless the Broken Road" won Rascal Flatts a Grammy for Best Country Song, and it also helped them win over legions of fans, with over one million singles sold, a platinum certification and the No. 1 spot on Billboard for five weeks. The song's poetic lyrics will tug at even the biggest cynic's heartstrings: "Every long-lost dream led me to where you are / Others who broke my heart, they were like Northern stars / Pointing me on my way into your loving arms / This much I know is true / That God blessed the broken road / That led me straight to you." As of 2013, the tune had sold over 3 million downloads, showing that country fans are suckers for love.