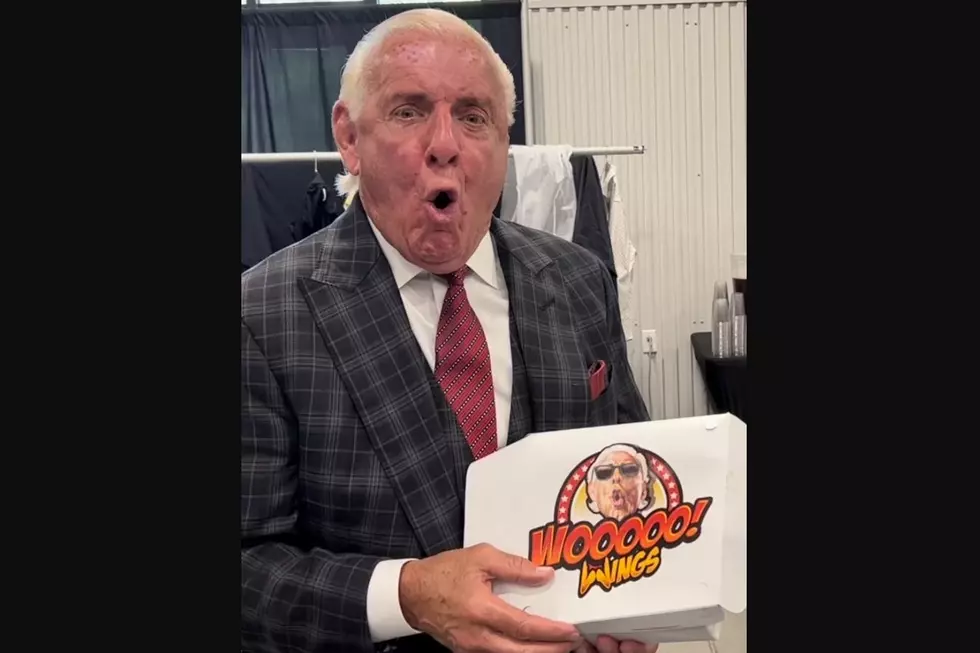 Legendary Wrestler Ric Flair Opens "Ghost" Wing Restaurant in Tuscaloosa
Twitter: @RicFlairNatrBoy
Ric Flair, one of history's best-known professional wrestlers, has partnered with an area restaurant to offer his new brand of "legendary" chicken wings here in Tuscaloosa.
The ghost restaurant / virtual kitchen concept is still a relatively new one -- a brand that is only available for delivery and pickup orders uses the resources of an already-open brick-and-mortar to offer something new, or the same food under a different brand name.
You might order a pound of shrimp from "Hootie's Bait and Tackle," for instance, only to have food delivered from your local Hooters restaurant.
In this case, Ric Flair is introducing his Wooooo! Wings to Tuscaloosa from the kitchen at Broadway Pizzeria South on McFarland Boulevard.
Tuscaloosa joins five other US cities for the launch of Flair's new brand, which coincided with "Ric Flair's Last Match," a pay-per-view wrestling supershow that took place in Nashville Sunday and purported to herald the 73-year-old wrestler's retirement from the sport.
The brand is available to order now on Uber Eats and Postmates, where patrons can currently order wings in four "legendary" flavors with fries and either blue cheese or ranch dipping sauce.
"I love chicken wings and I really love flavors that hit you like a chop to the chest," Flair said in a press release announcing the brand. "To be the man, you've got to beat the man, and these championship wings and legendary flavors from Wooooo! Wings are THE MAN!"
Flair partnered with Kitchen Data Systems, who specializes in launching and operating "virtual" restaurants including Powerbomb Pizza and DaMandyz Donuts, to launch the new concept.
"We're thrilled to bring the Wooooo! Wings virtual brand to life," KDS Founder and CEO Mike Jacobs said in the release. "With Wooooo! Wings, the flavors will be as legendary as Mr. Flair. KDS is all-in on virtual brands and all-in on Wooooo! Wings."
Tuscaloosa Restaurants and Businesses That Opened in 2022
New Year... New Tuscaloosa restaurants and businesses! 2022 welcomed in some great spots for shopping, good eats and business in the Druid City area.
Here are 18 restaurants and businesses that have opened since the start of 2022.
Top Stories from the Tuscaloosa Thread (7/25 - 8/1)
22 of the Top Stories published by the Tuscaloosa Thread during the week of July 25th, 2022.