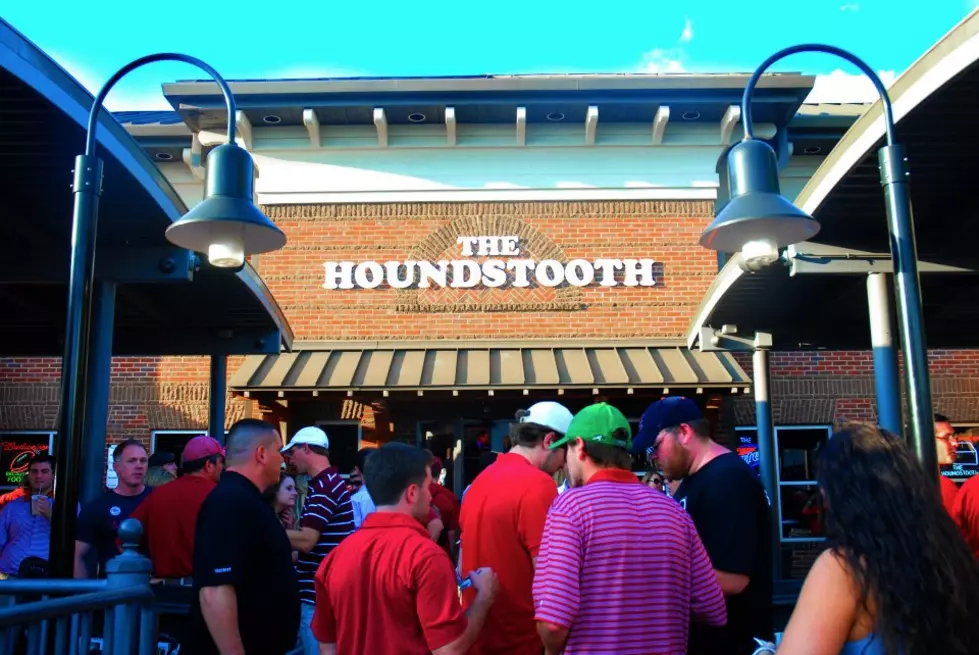 Top 5 Places to Drink in Tuscaloosa on Game Day
Houndstooth Sports Bar/Facebook
When football fans drive into Tuscaloosa for an Alabama home game, one of the things that must happen is to grab a cold adult beverage! 
Almost every place that sells adult beverages carries the game so treat yourself to one or two and enjoy the play-by-play with a ton of fellow fans!
Here's our list of 5 of those bars in case you need a suggestion.
Innisfree Irish Pub/Facebook

Innisfree Irish Pub/Facebook

1

As much as Innisfree has evolved, it will always be that place to escape and have a good time. Whether it's for a game day weekend, to reminisce on college days, or to create new memories, if you are looking for a good time, there's only one thing to do - Head to the Free.

Houndstooth Sports Bar/Facebook

Houndstooth Sports Bar/Facebook

2

The Houndstooth Sports Bar opened its doors in July of 1988 at 1300 University Blvd. in Tuscaloosa Alabama . Since that time they've been named the #1 College Sports Bar and the #14 Sports Bar in the Nation by Sports Illustrated and SI On Campus!

Druid City Brewing Company/Facebook

Druid City Brewing Company/Facebook

3

Druid City Brewing Company is Tuscaloosa's original craft brewery. Proudly serving Tuscaloosa since 2012. Specializing in one-of-a-kind in-house craft beers, Druid City offers an ever-expanding list of delicious brews. Proof you don't have to travel far to experience quality beer, music, and a culture that is undeniably Tuscaloosa.

4

Egan's is home of the halfshot and the coldest beer in town. One of the oldest established bars in Tuscaloosa, Egan's is known for it's eclectic décor, original live music and spirited clientele. You've got to check out this true Tuscaloosa original at least once on game day!

5

Rounders was established in June of 2009 in the heart of the strip in Tuscaloosa, AL. At nearly 10,000 square feet, Rounders offers three venues in one, each featuring its own style and atmosphere. Rounders features a variety of music formats throughout the bar, offers VIP tables, and three full-service bars.