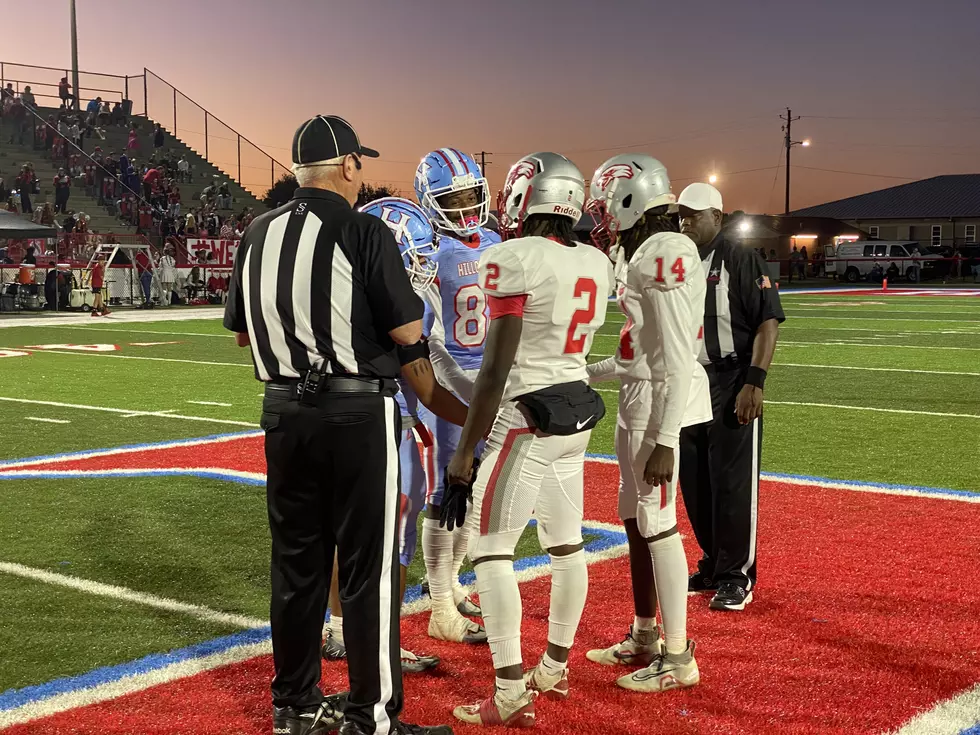 Hillcrest Eviscerates Central in Front of Homecoming Crowd
Photo courtesy of Aidan Dollins.
---
Tide 100.9's local high school football coverage is powered by The University of Alabama Online, "Where Legends Log In."
The Hillcrest Patriots welcomed their cross-town in-region rivals, the Central Falcons, to Patriot Parkway for their homecoming game on Friday and put on a clinic. The 63-19 beatdown was a dismantling of the Falcons in all three phases of the game.
Senior quarterback and fan favorite Ethan Crawford simply did all he needed to do as he and the rest of the Patriot offense were gifted with wonderful field position consistently throughout the first half. They started in Falcon territory on five of their first seven drives. Crawford went six of seven passing for 159 yards and two touchdowns and gained 13 yards on two rushing attempts, including a one yard touchdown run. He did not see the field in the second half.
Hillcrest got its scoring spree going on its second drive with a 36-yard touchdown throw from Crawford to junior tight end Jackson Henderson. Henderson shed multiple tackles en route to the end zone, including a bruising collision with a defensive back right on the goal line.
On the Patriots' next possession, senior running back Ja'Marian Johnson made everything happen. He hauled in a nine yard pass from Crawford, ran the ball to the 8-yard line, and then took it into the end zone on the ensuing snap.
After another punt of less than 20 net yards by the Falcons, Crawford found running back Chemar Moore over the middle of the field for 24 yards to set Hillcrest up at the 2-yard line. Moore was able to corral the ball despite being struck in the back before it arrived in an impressive display of focus.
From there, Crawford rolled out to his right on an option play and was being dragged down by a Falcon defender before he pitched the ball to running back Jayshon Land, who scampered in for the score.
Hillcrest took over at the Falcon 21 after they turned the ball over on downs and ran the ball right down Central's throats. The drive was capped off by a 1-yard plunge into the end zone by Crawford.
For the fourth time, Hillcrest started with the ball in Falcon territory. After an 11 yard connection between Crawford and Jamarcus Prince and a pair of runs from Johnson, it culminated in another touchdown run from the running back.
Despite the score being 35-0 in favor of their opponent, the Falcons refused to go down without a fight. Junior Quarterback David McNeil was able to hit running back Marquis Thomas on a crucial third down pass to keep the drive alive and then hit Christian Bishop inside the redone on the very next play. McNeil capitalized on the field position by finding Bishop in the front of the end zone. Bishop fought all the way to the ground for the contested ball, but came away victorious.
With less than a minute left in the half, Crawford threw his final ball of the evening. It was a 72 yard connection with Prince for the Patriots' sixth touchdown of the night.
The second half opened with the Falcons trailing 42-6 and back on defense. Patriot back-up quarterback Bryson Kimbrough led the offense 75 yards down the field before scrapping for two yards to score a rushing touchdown and put Hillcrest up 49-6.
The Patriots were leaning heavily on their running game in an effort to run the clock out and continue with their homecoming festivities, but scored in three plays on their next drive nonetheless. The drive was capped off with a six yard touchdown run by Darren Petty.
The Falcons offense found rhythm again on their next drive and McNeil was able to lead his team all the way down the field. After a fortuitous defensive pass interference call on a fourth down conversion attempt, McNeil and Shunkeith Turner took turns running the ball until Turner punched it in from two yards out to make the score 56-13.
Hillcrest ground the ball down the field again, leaning heavily on Petty and Trey Walker. Walker scored from fourteen yards out after they chewed up most of the remaining time on the clock.
However, there was just enough time for Central to get one final score in ignorer to save face to some degree. Having been set up by a 50 yard connection between himself and Bishop and a 17 yard pass to Thomas, McNeil ran the ball in from a yard out.
After the game, coach Bell of Central said he was very pleased that his team didn't give up and kept fighting until the final whistle. He wants his team to clean up some mental errors here and there and capitalize on more of their opportunities, but overall was pleased with their performance.
Of McNeil, who was not Central's quarterback to start the season, he offered high praise.
"He's a total team guy. You can't ask for a better quarterback," said Bell. He understands what we're expecting out of him, what we're trying to do as far as plays. Great leadership, just an overall great guy."
Hillcrest coach Jamie Mitchell was extremely happy with his offense's production and how cleanly they played. He hopes to see the defense have better recognition of what an opposing offense is setting up for and to clean up some mental gaffes, but said it was great to win the way they did.
The coach was especially happy with how into the game the homecoming crowd was.
"Trust me it is special. We talk about that all the time," the coach said of playing for the Hillcrest community. "To be able to play here in front of our people has really grown into something special. Home games here have become an event. We love the stadium, we love this field, and our people are just fantastic and have really embraced this team."
Hillcrest hosts Bessemer City on Friday Oct. 7 and Central will host Northridge on the same night.
Hillcrest vs. Central
The Hillcrest Patriots defeated the Central Falcons 63-19 on the Patriots' homecoming night, Sep. 30.
High School Football Week 5: Brookwood at Hillcrest Gallery
Photos from the Brookwood vs Hillcrest game. Hillcrest won 44-0.
Aliceville Spoils Central Falcons' Homecoming Party
Aliceville Dominates Central, 42-13, during Falcons' Homecoming.
Hillcrest defeats Hueytown Week 4
Week 3 Bryant @ Central
Hillcrest at Northridge Week 3 2022
Central vs Woodlawn 8/27
Woodlawn defeats Central 22-7
Hillcrest Vs. Armwood (FL) battle in a week 2 matchup.
Tuscaloosa County High vs Central Week 1 2022
Pike Road Falls to Hillcrest