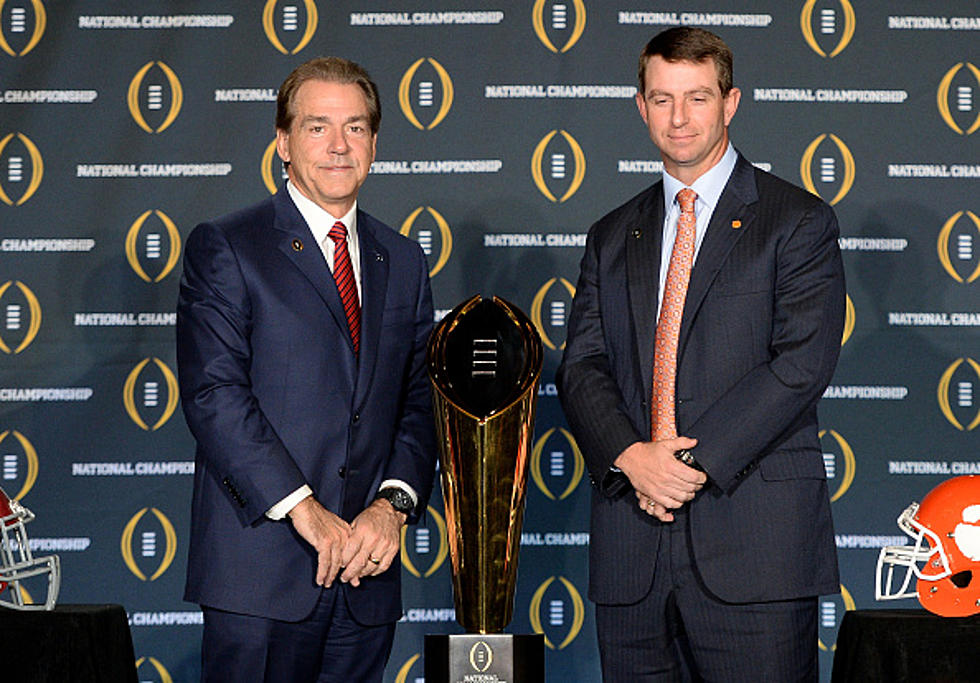 ESPN Gives Alabama a 47% Chance to Make the College Football Playoff
Getty Images
If you were hoping 2018 might bring some new names and faces to the College Football Playoff, I have some bad news for you. ESPN released a new set of predictions based on five key factors and the list of playoff favorites looks awfully familiar.
Before we share the rankings, let's explain the five pieces of data that ESPN is using to calculate the chances for each college football team to make the playoff. Here's how they explain it:
Strength of Record (how much teams have accomplished)
FPI (how good teams are)
Number of losses (incorporated into SOR but the committee places even more emphasis on losses)
Conference championships
Independent status (Notre Dame can't be a conference champion, but all else being equal it might get more credit than a team that didn't win its conference championship)
Under that criteria, Clemson (67%) has the best shot at making the College Football Playoff for the fourth straight year. ESPN also thinks the Tigers have the best team and the strongest chance to win it all (24%). That's all fair considering the strength of that defensive line and the lack of strength on that schedule.
Not surprising is who comes in two and three. Alabama (46%) and Georgia (46%) each have about the same chance to make it into the final four again. The Crimson Tide will have a few landmines to navigate but should be in a pretty good spot to keep its perfect College Football Playoff appearance record intact.
Notre Dame checks in 3rd and the Irish are the only team in the top eight that haven't made a playoff yet.
If these predictions turn out to be accurate, it will be another year with the same teams and matchups as we've seen since the playoff debuted. You won't find many people in Tuscaloosa complaining about that.
Check out ESPN's full list of percentages here.