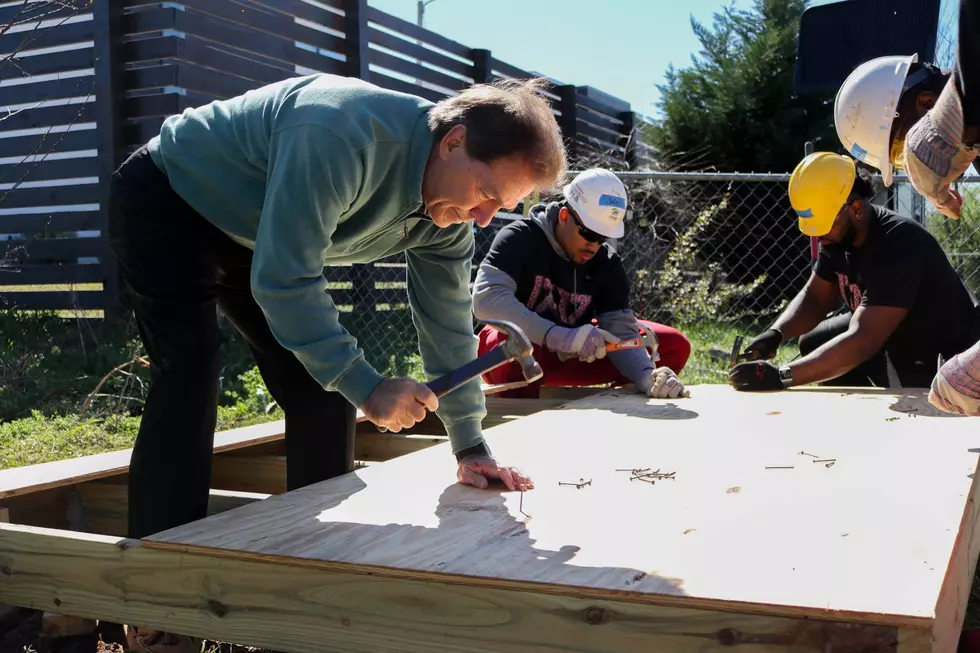 Nick and Terry Saban to Dedicate 19th Habitat House in Tuscaloosa Thursday
Habitat for Humanity | Jake Stevens
The king and queen of Alabama Football, Nick and Terry Saban, will dedicate the 19th Habitat for Humanity "championship" house they have funded in Tuscaloosa during a ceremony next Thursday.
The incredible philanthropic tradition began in 2012, less than a year after the city was devastated by an EF-4 tornado and the need for Habitat's work was greater than ever.
Coach Saban was coming off his third national championship in four years, and he and Mrs. Terry announced that their Nick's Kids Foundation would fund and help build a new house for every National Championship the Crimson Tide had won since 1925.
Saban has earned three more rings at Alabama since then, and the foundation is now responsible for 18 completed, occupied Habitat houses in Tuscaloosa.
As the Alabama faithful are all too aware, Saban and the Tide did not win the National Championship last year -- late-season injuries to key players proved too much to overcome in Bama's 18-33 loss to the Georgia Bulldogs for the title.
Earlier this week at the foundation's annual luncheon, Coach Saban let slip that Mrs. Terry wasn't going to let that loss prevent the couple from continuing to support Habitat for Humanity.
"We're going to build our 19th house this year, even though we didn't win the National Championship," Nick Saban said. "Mrs. Terry kind of changed the rules on me, since we won the SEC and beat the team that won the National Championship, she said 'I think that's worthy of building another house."
Ellen Potts, the executive director of Habitat for Humanity Tuscaloosa, confirmed to the Thread that the Sabans will dedicate the new home on Ash Street in a ceremony next Thursday morning.
Stay connected to the Tuscaloosa Thread for coverage of the ceremony next week and for more news from other outstanding area nonprofits.
Top Stories from the Tuscaloosa Thread (7/25 - 8/1)
22 of the Top Stories published by the Tuscaloosa Thread during the week of July 25th, 2022.