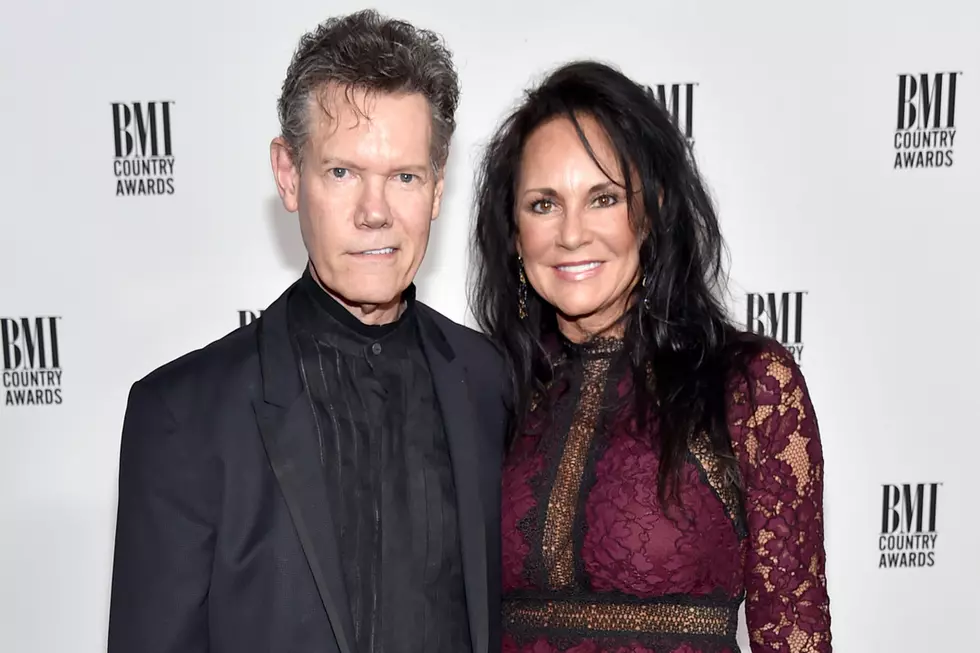 Randy Travis Says He's Not Happy During Most In-Depth Interview Yet
Michael Loccisano, Getty Images
Randy Travis admits he's not happy, but "damaged." In his most revealing interview to date, the singer and his wife talk about their frustrations and future.
The couple spoke to the Tennessean about Travis' stroke, the laborious rehab, and their prospects for the future. On Wednesday night (Feb. 8) Travis will be on hand for 1 Night. 1 Place. 1 Time: A Heroes & Friends Tribute to Randy Travis at the Bridgestone Arena in Nashville. Whether or not he'll sing is a matter of debate. Wife Mary says he will, but Travis doesn't seem so sure. He'd previously sung publicly at his Country Music Hall of Fame induction and during the 2016 CMA Awards.
Watch: Randy Travis Sings at the Country Music Hall of Fame
Mary says Travis knows all his lyrics and can sing, and while he knows his voice is not the same as it was before his July 2013 stroke, the world will still know it's him. He's often seen smiling, be it during public events like awards shows or during the many times he's surprised fellow artists on stage or in their audience. But is he happy?
"Well ... no," he told the Nashville daily newspaper. "Damaged."
During a lengthy, in-depth interview Mary details the days before and after his stroke and tells of doctors who urged her to give up at every obstacle. She reveals that they believe he caught the viral cardiomyopathy virus in his heart during a movie shoot five weeks earlier. Doctors didn't know he had a stroke for 48 hours. Amongst the setbacks were two brain surgeries, three bouts with pneumonia, seven intubations, three tracheotomies and staph infections. Through it all, the singer gave his wife reason to believe he wasn't ready to quit.
"I knew then he wasn't ready to quit fighting," she says. "I went back and told the doctors, 'It's not our choice to decide that. … And I suggest that everybody get on board and do everything they can do to save him.'"
Two-and-a-half years of rehab have allowed him to walk, shower without assistance and get dressed. He can use his left hand to finger guitar chords, but he's still regaining use of his right arm and leg. The couple have no specific goals for the future, other than to remain hopeful.
Amongst the stars set to take part in Wednesday night's tribute are Garth Brooks, Kenny Rogers, Chris Young, Scotty McCreery, Alison Krauss and Alabama. Taste of Country will have a full recap of the show on Thursday morning.
7 Country Stars Who Cheated Death: