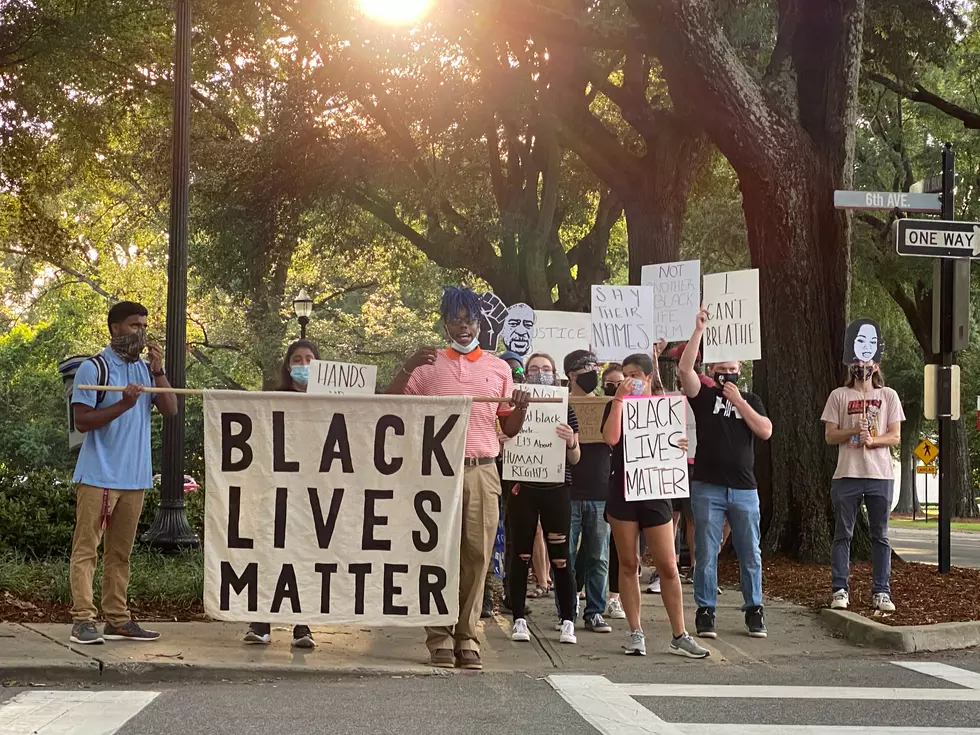 Protests Continue on University of Alabama Campus
James Benedetto
During a weekend of graduations and celebrations, protesters took to the champagne-soaked streets of the University of Alabama campus to express their frustrations toward racism on Sunday afternoon.
"People seemed like they just stopped caring so I was like, the matter is still here, so why should we stop?" LaDarius Murray, the protest's organizer, said. "So I started to take matters into my own hands and put my own protests together."
Murray said this is the fourth protest his group of friends have put together this month after he and other protesters noticed that the impact of the protests in downtown Tuscaloosa and at Snow Hinton Park began to lose steam. The first protest had around 10 to 15 people and has grown in size after each week.
Murray and fellow protest organizer Nikhil Singh led the group from Bryant-Denny Stadium to Foster Auditorium while carrying a Black Lives Matter banner down University Boulevard. Some cars honked in appreciation, though other onlookers stared with a visible, yet subdued, discomfort.
"We can't erase negativity and we can't erase racism," Murray said in a speech. "But as long as we are doing something like protesting and trying to make a change in the community and actually saying that we are trying, then all they are doing is hating."
Murray, Nikhil Singh and his sister Nisha Singh took turns speaking to the group in front of a plaque dedicated to Vivian Malone. Malone was the first Black person to have graduated at The University of Alabama after then-Gov. George Wallace infamously stood in front of Foster Auditorium to prevent Malone and James Hood from registering for classes in 1963.
"It just makes you check out your own privilege and to realize that if [Malone] was willing to risk everything to get a proper education, which should have been one of her rights as an individual, as somebody who scored in the top of her class, I mean it makes you realize that you got to keep pushing forward and not let anything plateau," Nisha Singh said.
Nisha Singh is an alumna of The University of Alabama and, along with her brother, joined Murray as he began preparations for his own protests earlier this summer.
"It's been awesome," Nikhil Singh said. "We couldn't help but smile earlier when all of the people were coming because we have been saying. 'If we could just double the number from five to 10,' and now we are at 20. So it feels great for sure and that way we know we are actually doing something positive."
The group will look to reconvene next Sunday to protest again. Keep an eye out on social media for more information.
Enter your number to get our free mobile app