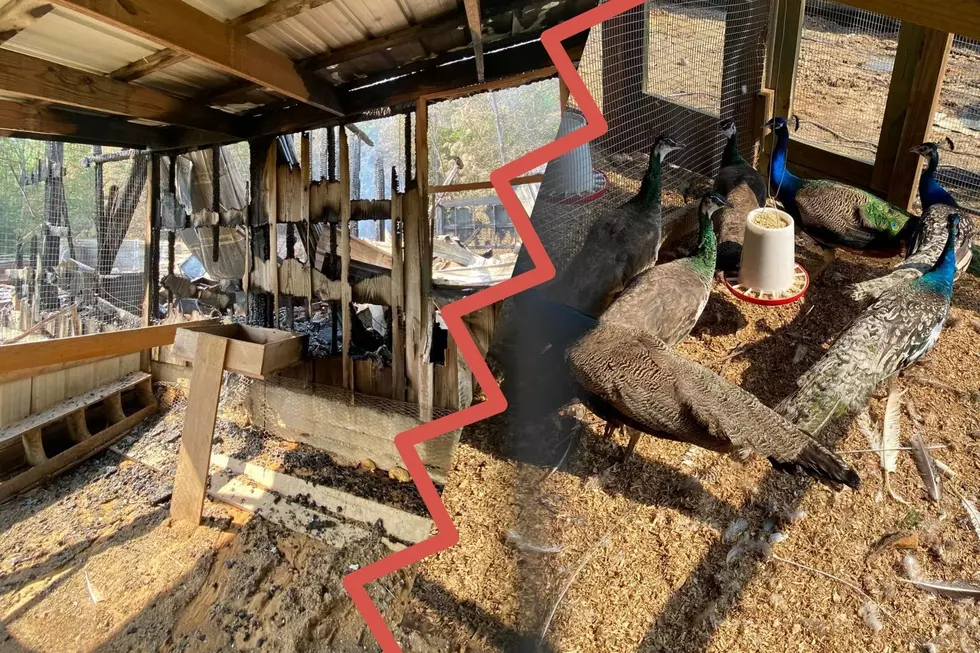 Peacocks Missing After Fire Destroys Barn In Tuscaloosa County
Canva| Brittany Thrasher, Facebook
Be on the lookout. Several animals have been lost including a few peacocks following a barn fire in Elrod earlier this week.
A farm in Elrod has burned to the ground after a suspected electrical issue sparked a fire.
Several animals were lost due to the fire including milk goats, baby lambs, pheasants, baby chicks, and turkeys.
Several peacocks went missing following the fire. A total of 11 peacocks were initially missing but after catching 8 of them, 3 male peacocks are still missing.
"My dad is well known for his woodworking and wagon building skills," said Brittany Thrasher. the barn and shop that burned down belonged to her father Ken Thrasher.
The farm was described as a hobby farm and doubled as a shop where Ken Thrasher built wagons and other items.
Photos posted to Brittany Thrasher's Facebook page show the aftermath of the barn fire.
The fire completely destroyed Ken's barn.
Areas that once housed turkeys, goats and more are gone.
Here's a view from the side of the barn.
Charred remains are all that's left of this once-thriving structure.
Ken's woodworking skills were well-known in the area.
He even made wagons for adults and kids as well.
You can see many wagons were built and sat in front of the barn before the fire destroyed the structure.
Brittany said her father Ken is ok physically after the fire, but emotionally he's heartbroken. "All of his tools, saddles, tack, office, everything is gone!"
Top Stories from the Tuscaloosa Thread (5/2 - 5/9)
19 of the Top Stories published by the Tuscaloosa Thread during the week of April 25th, 2022.
25 Best Towns to Raise a Family in Alabama
Alabama's Top 20 Fastest Growing Cities