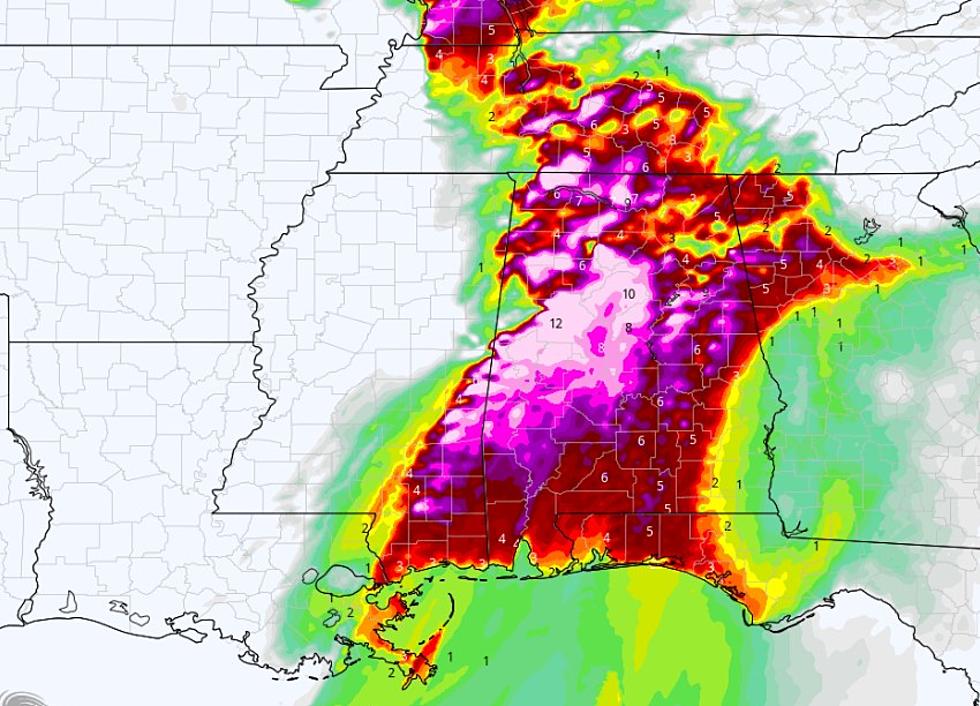 Major Severe Weather Outbreak Likely in Tuscaloosa, Alabama Thursday
NWS via James Spann
West Alabama could see a major severe weather outbreak Thursday as strong, violent tornadoes are once again possible across the state.
ABC 33/40 and Townsquare Media Tuscaloosa Chief Meteorologist James Spann shared his thoughts on the upcoming weather event:
Showers and storms are possible, if not likely, across parts of Alabama tomorrow morning… but they will most likely remain below severe limits. The window for severe thunderstorms over Northwest Alabama will run from 1 until 9 pm… for places like Birmingham, Tuscaloosa, Anniston, and Gadsden the window is from 3 until 11 pm, and for Montgomery and points south and east the threat will come from 5pm until 1am.
All modes of severe weather will be possible, including violent, long-track tornadoes. The Significant Tornado Parameters for our area are especially high, indicating a greater tornado threat with this severe weather outbreak than the one Alabama experienced last week.
Spann is urging Alabamians to prepare for what looks to be a major severe weather outbreak.
"Alabamians did a remarkable job of being ready for last week's severe weather event on March 17. We had 25 tornadoes in the state, but not a single injury despite major damage. We need the same level of preparedness for tomorrow," Spann said. For a more in-depth look at tomorrow's severe weather event, check out the latest ABC 33/40 Weather Xtreme Video below.
Ensure that you have a way to receive watches and warnings as they are issued by the National Weather Service. Learn more about TuscALERT, a free notification from the Tuscaloosa County Emergency Management Agency and the Cities of Tuscaloosa and Northport HERE.
Townsquare Media Tuscaloosa's Operation Storm Watch is brought to you by Safe-T Shelter. Visit their website here to see their selection of residential and commercial safe rooms and storm shelters. To contact a Safe-T Shelter representative, click here to visit their Facebook page.
Check out the latest radar models here:
If a tornado warning is issued in our area, Townsquare Media Tuscaloosa Operation Storm Watch will provide you with live and local team coverage, including wall-to-wall weather with James Spann.
To view the latest weather updates and information, click here.
TIPS: Here's how you can prepare for power outages
KEEP READING: What to do after a tornado strikes
KEEP READING: Get answers to 51 of the most frequently asked weather questions...