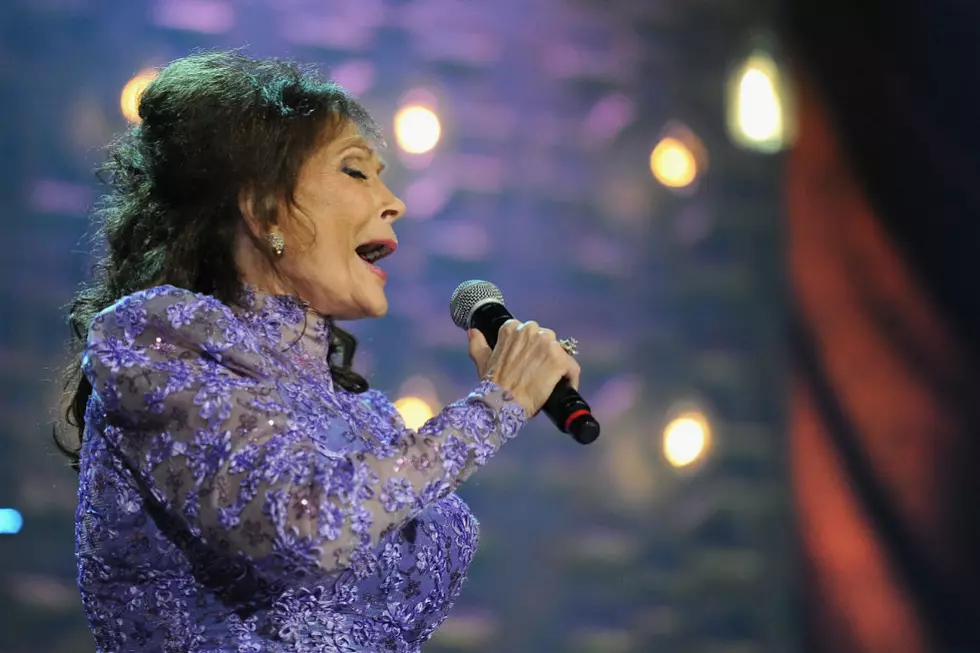 Top 10 Loretta Lynn Songs
Erika Goldring, Getty Images
Figuring out the best songs released by Loretta Lynn is difficult, simply because the Kentucky-born legend has amassed one of the most influential catalogs in all of country music.
Although she was known for speaking her mind, criticizing the no-good men she's come across and singing about taboo topics such as birth control (in fact, she was banned from country radio for the latter), Lynn's ability to capture the simple joys and agonies of the human experience has helped her endure.
Even more impressive: Lynn has continued to tour and record albums on a regular basis. The Boot's list of the Top 10 Loretta Lynn songs spans her prolific heyday in the 1960s and '70s, and underscores her progression as a songwriter and vocalist.
10

"Happy Birthday"

From 1964's 'Songs From My Heart'

Lynn's "Happy Birthday" isn't a cover of the standard celebratory greeting. Written by Ron Kitson, the gently loping song is a very pointed message to an ex with a wandering eye and a new lady. Lynn wishes him well on all holidays, not just his natal anniversary, but is firm that she's leaving him and no longer taking any disrespect.

9

"One's on the Way"

From 1971's 'One's on the Way'

Written by author Shel Silverstein, the No. 1-charting title track from Lynn's 1971 album is a half-harried, half-slapstick take on the chaos of motherhood. The protagonist is pregnant and living in Topeka, Kan., where she's trying to wrangle her brood while envying the fabulous lives of stars such as Raquel Welch. Lynn's ability to inhabit this character — which isn't that much of a stretch, since she had six kids by that point — helps elevate the song.

8

"Wine, Women and Song"

From 1964's 'Before I'm Over You'

This early Lynn single mixes a sparkly, spindly piano melody and a decidedly R&B influence, and functions as a thematic precursor to her later work. The protagonist here is dreaming of one day making sure her no-good, money-spending husband will get his just desserts — a promise she later fulfilled with songs such as "Don't Come Home a-Drinkin' (With Lovin' on Your Mind)."

7

"Somebody Somewhere (Don't Know What He's Missin' Tonight)"

From 1976's 'Somebody Somewhere'

Lynn's 10th No. 1 country single reveals a wiser woman who's drowning her sorrows in drinks and sad songs. Unlike some of her other tunes, however, the main character of "Somebody Somewhere" isn't necessarily dogged by a no-good husband; instead, she's fighting off loneliness while maintaining the belief that she'd be the perfect match for somebody out there.

6

"You're Lookin' at Country"

From 1971's 'You're Lookin' at Country'

Lynn penned this clever song that uses gentle double entendres to espouse the joys of the actual country and compare herself to the idea of it. She self-describes as "old-fashioned" and "a little green" but does admit, "I'll show you around if you'll show me a weddin' band." Carrie Underwood has covered this song, and Lynn herself performed the song with Kacey Musgraves at the 2014 CMA Awards.

5

"Dear Uncle Sam"

From 1966's 'I Like 'Em Country'

There's a reason why Lynn still plays "Dear Uncle Sam" in concert today, 50 years after it was released as a single: The sentiments within the song remain just as heartbreaking (and, sadly, just as relevant) in the modern world. The unnamed protagonist is penning a letter to the titular patriotic figure, explaining that her beloved is happy to be serving his country. However, she's writing with sad news: As a mournful trumpet plays "Taps," she reveals that a telegram has arrived with terrible news, implied to be her beau's death.

4

"The Pill"

From 1975's 'Back to the Country'

Even today, Lynn's mid-'70s single "The Pill" sounds like a revelation. Not only does the song have a hint of funk and a strident vocal performance, but its subject matter — a wife getting on birth control because she's sick of having babies with her husband — is a feminist rallying cry. Unsurprisingly, the song was banned by more than 60 radio stations, but as a People story noted at the time, when a Kentucky preacher condemned the song, "the effect was to send much of the congregation scurrying out to buy the record." No wonder "The Pill" reached No. 70 on the pop charts and became Lynn's highest-charting single there!

3

"Fist City"

From 1968's 'Fist City'

Lynn earns her reputation as an outlaw country inspiration honestly — mainly, and especially, because of songs such as "Fist City," a take-no-prisoners warning shot inspired by a woman who chased after Lynn's then-husband Doolittle. The song's title alone hints at her feelings toward the matter, but it's Lynn's veiled insults toward the other woman (e.g., comparing her to trash) and not-so-vague threats of a knuckle sandwich that make this song such a fierce, empowering anthem.

2

"Don't Come Home a-Drinkin' (With Lovin' on Your Mind)"

From 1967's 'Don't Come Home a-Drinkin' (With Lovin' on Your Mind)'

Lynn's first No. 1 hit is yet another example of when she flipped the script and spoke out for women everywhere. The tune — which she cowrote with Peggy Sue — in no uncertain terms tells her man that she's tired of playing second fiddle to his carousing and barhopping. "You never take me anywhere because you're always gone / Many a night I've laid awake and cried, dear, all alone," she sings, while stressing that he better not be looking for sweetness when he arrives home.

1

"Coal Miner's Daughter"

From 1970's 'Coal Miner's Daughter'

Lynn's narrative song detailing her early life in Kentucky remains her crowning lyrical and musical achievement. As buckling banjo and pedal steel waltz in the background, she pulls out scenes from childhood — getting a new pair of shoes each winter, remembering her mom reading the Bible by coal oil light — and reminisces about how things changed when she visited again as an adult. The pride that Lynn has in her upbringing, as well as the respect that she has for her parents and how they cared for the family, shines through loud and clear — and no doubt explains why "Coal Miner's Daughter" endures, and has been covered by Miranda Lambert and Sheryl Crow.