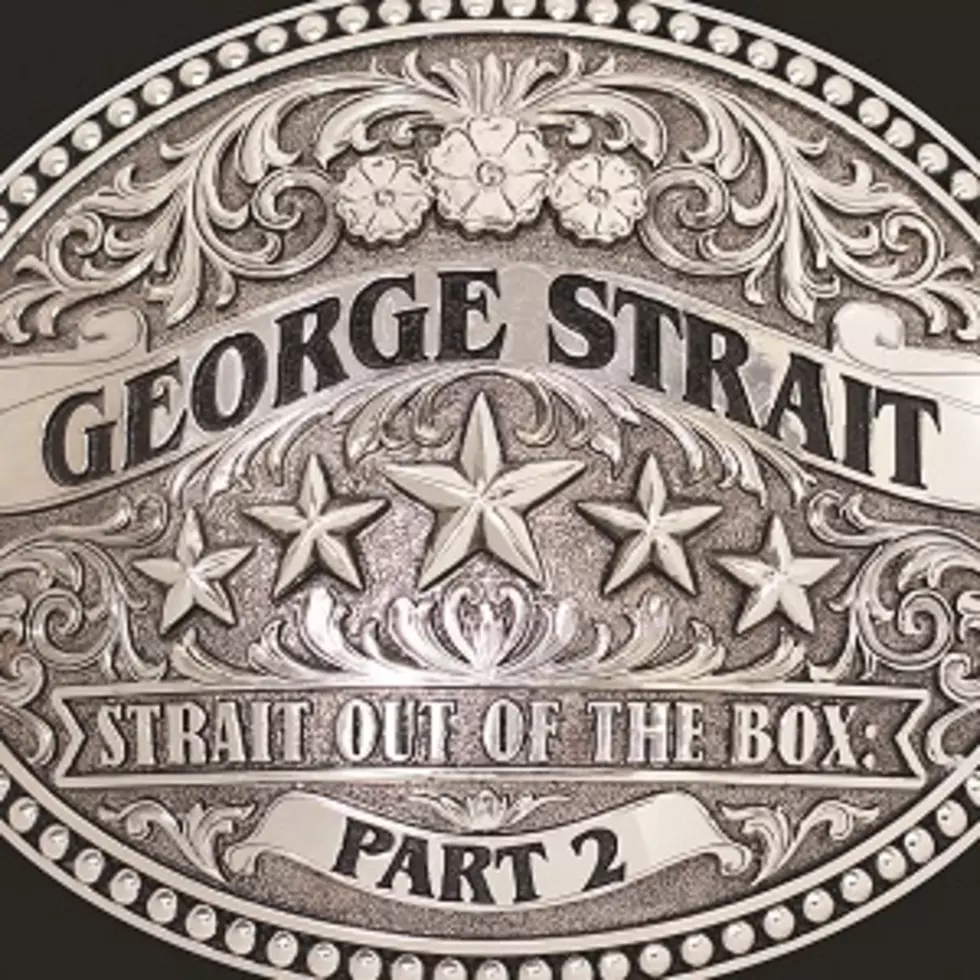 Album of the Month (November 2016): George Strait, 'Strait Out of the Box: Part 2′
MCA Nashville
The Boot's readers have spoken -- and they are very excited to get their hands on George Strait's brand-new box set! Strait Out of the Box: Part 2 has been named The Boot's November 2016 Album of the Month.
Due out on Nov. 18, and available exclusively at Walmart, Strait Out of the Box: Part 2 features three discs, containing a total of 56 tracks: 36 hit singles (including 26 No. 1s and Strait's newest single, "Goin' Goin' Gone"), 18 album cuts and two brand-new tunes, "Kicked Outta Country" and "You Gotta Go Through Hell." All of the songs included in the collection were curated by Strait himself, from music released between 1996 and 2016.
"Going back through all the songs for this box set does bring back a lot of old memories," Strait says in a press release. "A lot of them we considered for radio singles, and for whatever reason, we just picked something else. It was not that hard to pick them after I looked through them because there are just so many that are my favorites."
Strait Out of the Box: Part 2 has been a long time coming: It picks up where Strait Out of the Box, Strait's 1995 box set, left off. That four-disc collection features music released by Strait between 1976 and 1995, and has, to date, sold more than 8 million copies, making it one of the best-selling musical box sets of all time. The original Strait Out of the Box spawned two singles, "Check Yes or No" (written by Danny Wells and Dana Hunt) and "I Know She Still Loves Me" (written by Aaron Barker and Monty Holmes); the former became Strait's 28th No. 1 hit, staying at the top of the charts for four straight weeks, and won Strait both a CMA and an ACM for Single of the Year, while the latter peaked at No. 5 on the charts.
George Strait, Strait Out of the Box: Part 2 Track Listing:
1. "Blue Clear Sky"
2. "Carried Away"
3. "Rockin' in the Arms of Your Memory"
4. "I Can Still Make Cheyenne"
5. "Round About Way"
6. "Carrying Your Love With Me"
7. "One Night at a Time"
8. "Today My World Slipped Away"
9. "The Nerve"
10. "I Just Want to Dance With You"
11. "True"
12. "Maria"
13. "We Really Shouldn't Be Doing This"
14. "Meanwhile"
15. "Write This Down"
16. "The Best Day"
17. "Looking Out My Window Through the Pain"
18. "Go On"
1. "She'll Leave You With a Smile"
2. "Run"
3. "Living and Living Well"
4. "My Life's Been Grand"
5. "Cowboys Like Us"
6. "Desperately"
7. "Four Down and Twelve Across"
8. "I Hate Everything"
9. "Seashores of Old Mexico"
10. "She Let Herself Go"
11. "Give It Away"
12. "Wrapped"
13. "It Just Comes Natural"
14. "Texas Cookin'"
15. "How 'Bout Them Cowgirls"
16. "Come on Joe"
17. "Troubadour"
18. "River of Love"
19. "I Saw God Today"
1. "Living for the Night"
2. "Out of Sight Out of Mind"
3. "Arkansas Dave"
4. "Love's Gonna Make It Alright"
5. "Drinkin' Man"
6. "Shame on Me"
7. "Here for a Good Time"
8. "House Across the Bay"
9. "Blue Marlin Blues"
10. "I'll Always Remember You"'
11. "Give It All We Got Tonight"
12. "I Just Can't Go on Dying Like This"
13. "That's What Breaking Hearts Do"
14. "The Night Is Young"
15. "I Believe"
16. "Goin' Goin' Gone"
17. "Everything I See"
18. "Kicked Outta Country"
19. "You Gotta Go Through Hell"
More of 2016's New Releases
Test Your George Strait Knowledge!