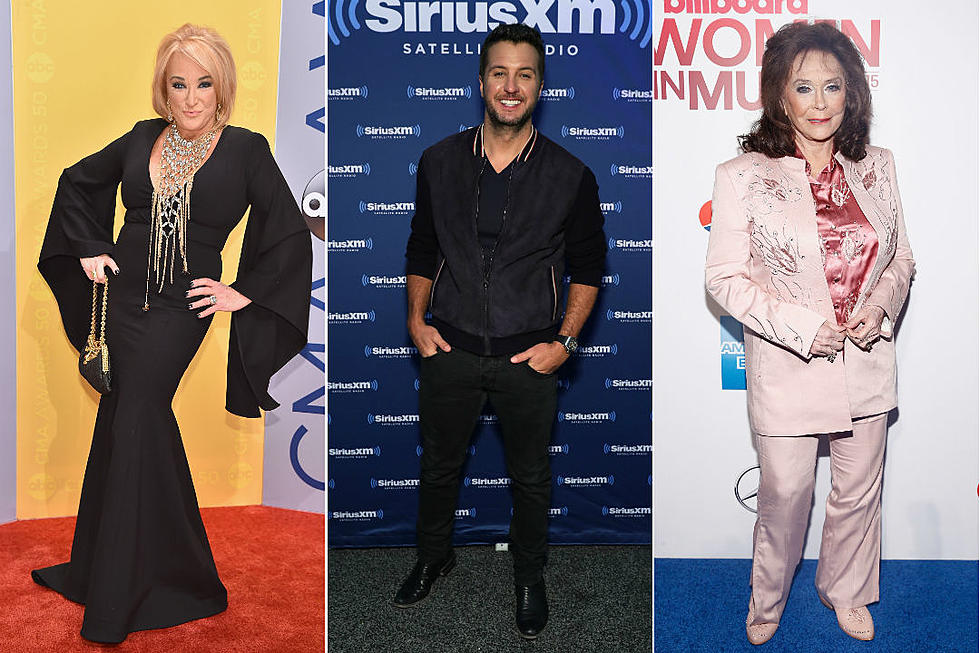 Top 10 Country Songs About Spring
Michael Loccisano / Cindy Ord / Brian Ach, Getty Images
Country songs about winter and summer are everywhere; country songs about the arrival (or merits) of spring are more difficult to find, however. Sure, there's an abundance of tunes suitable for Spring Break — paging Luke Bryan! — but the season itself isn't as common an inspiration.
The shortage is a puzzling thing: There's something poetic and profound about cold temperatures and dreary snow melting away in favor of blooming flowers and warmer weather. And even if you live in a place that doesn't get snow, the idea of new beginnings — or that summer is creeping ever closer — is relatable.
Nevertheless, multiple songwriters have found spring to be a perfect source material for resonant songs:
10

Roots-rock legend Lauderdale teamed up with the jam act Donna the Buffalo for a 2003 album, Wait 'Til Spring. The project's title track is resonant, especially live: The band's easygoing blues guitar and organ mesh with Lauderdale's gravelly voice and acoustic guitar, all of which amplify the song's optimism.

9

"Spring Break-Up"

Luke Bryan

It's no mystery why Bryan is often dubbed country music's king of Spring Break. Not only did the country superstar perform an annual Spring Break concert in Panama City, Fla., for a number of years, he also released six Spring Break-themed EPs, starting with 2009's Spring Break With All My Friends. The fourth installment in this series, 2012's Spring Break 4 ... Suntan City, contains "Spring Break-Up," a twangy, fiddle-augmented song about a guy putting an expiration date on a vacation fling. It's a cold splash of reality after what seems to have been a hot week: "I hate to break it to ya, but you won't ever see me again," the song's protagonist says. "If I'm a bad guy, well, I don't mean to be / But there's a beach full of buddies acting just like me."

8

"Tiptoe Though the Tulips With Me" dates back to 1929, a year when four different versions of the song hit the charts. In the mid-'50s, however, country legend Atkins put a unique spin on the song by interpreting it as a bluesy and playful instrumental that channels verdant greenery and blooming flowers. The song was later made famous by Tiny Tim in the late '60s.

7

Anyone dealing with late-winter weather can relate to this jaunty late-'50s No. 1 song, which details the unseasonable weather Alaskans face during what's supposed to be a milder time. Unfortunately, the protagonist of "When It's Springtime in Alaska (It's Forty Below)" faces a different kind of chill: After he accidentally has a dalliance with another man's future wife, the tables turn: "When it's springtime in Alaska, I'll be six feet below." Unsurprisingly, Johnny Cash covered this song in 1965 — two years after Hank Snow gave it a spin.

6

"Late Winter, Early Spring (When Everybody Goes to Mexico)"

John Denver

This poignant instrumental — which is part of John Denver's famous five-part "Seasons Suite," from 1972's Rocky Mountain High — does, in fact, conjure the time of year when the cold weather stubbornly lingers and people flee to warmer climes for solace. Delicate acoustic guitar with a faint Spanish influence dominates, with a steady counter-melody underneath adding balance and sturdiness.

5

The female protagonist of Lynn's 1978 single has a secret: The newly ignited passion her current partner sees comes from the fact she's seeing someone new on the side. She can't bring herself to confess her affair, however — or break her man's heart, since "his love's true." Instead, she blames the nice spring weather for her sudden behavioral changes. "I said, 'I guess it's Spring Fever in the middle of winter / I hear birds singing, and I feel the warm sunshine too.'"

4

"When It's Springtime in the Rockies"

Gene Autry

"When It's Springtime in the Rockies" has a storied history. Written by composer Robert Sauer and co-lyricists Milt Taggart and Mary Hale Woolsey, the gentle song was first recorded by Bud and Joe Billings in 1929. Several years later, it was popularized by Autry, after it appeared in his 1937 movie Springtime in the Rockies. Johnnie Ray, Hank Snow and the Sons of the Pioneers have also covered the tune — no doubt because of its timeless theme of returning to a beloved when the weather turns warmer.

3

As its name implies, this Scott Avett-penned indie-folk tune is a heartfelt rumination on becoming a parent, and all the ways it transformed his life: "I never lived until I lived in your light," he sings, the wonder and joy evident in his voice. "And my heart never beat like it does at the sight / Of you, baby blue, God blessed your life." Gentle organ and acoustic guitar appropriately give "A Father's First Spring" a lullaby-like feel, and make the Avett Brothers song 100-percent suitable to throw on during naptime.

2

"Spring Breakdown"

Luke Bryan

Bryan's bacchanalia farewell, 2015's Spring Break ... Checkin' Out, contains "Spring Breakdown," one of his most poignant songs. In fact, the wistful tune is all about coming to terms with the end of an era — or, in this case, the end of an annual debauched Spring Break tradition. "And I wish it could last forever and ever / Oh, but the sand runs out / And we roll back home," he croons, reminiscing in between about good times with friends and ephemeral romances.

1

Written by John Tipton and originally released in 1975, Tucker's "Spring" is about a much-wanted baby girl named (what else?) Spring. The child survives trauma (her mother's death, when Spring is just six years old) but eventually finds happiness via marriage to a man who's "waited a long, long time" for her. Tucker's performance on the song is particularly powerful: As majestic strings swirl around her, she belts out Spring's story with confident gusto — giving power to the life of Spring's mother and Spring herself.