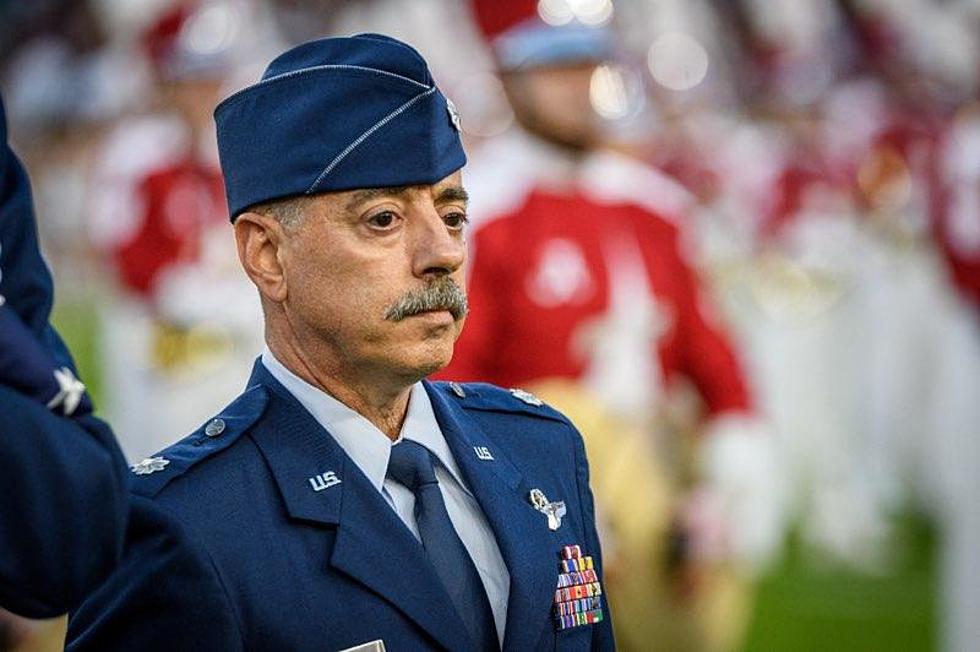 Colonel Mike Romeo's Experience Receiving an American Flag from His Alma Mater
Photo courtesy of Jonathan Whitaker
[Editor's Note: The author is the nephew of the flag recipient.]
On October 23rd, Colonel Mike Romeo returned to the University of Alabama. He had returned many times since graduating, but this time he returned for a memorable moment with family and friends.
Romeo attended Alabama for one reason, they were the first to offer help with schooling:
"I was out in California and probably applied to probably three different schools and Alabama was the first one that came back with a scholarship."
Attending the University of Alabama from 1979 to 1983, he graduated and joined the Air Force and served for 24 years. After serving, he took a job as an instructor pilot for Corporate Aviation.
While in the Air Force, he met his wife Andrea at Bennigan's before an assignment. Speaking of the meeting, Andrea said:
"We sat down and talked for about 2 hours." Andrea continued: "We had 3 dates before he went, and then 2 years later we were married."
Colonel Romeo has 3 children, one of whom is currently serving in Tokyo, Japan.
Romeo was initially unaware of his nomination and the receiving of the flag. He was nominated by Tim Paradiso, a fellow classmate, and family member. Paradiso spoke about the nomination:
"Watching them give a flag recipient every game, I was listening to their stories and how they earned the flag...Mike's career was just as good if not better and he was just as deserving." Paradiso went on: "I asked Dr. O, the band director who do I need to send the recommendation to."
Paradiso originally applied in 2019 for Colonel Romeo to receive the honor in 2020, but COVID-19 changed the date of the ceremony. Colonel Romeo however, did not know he was going to be on the field until 3 weeks before it happened.
"We were on the phone with your dad 3 weeks ago and that's when I found out all about it." Romeo said. Paradiso added: "We had already planned to all get together for the homecoming."
During the moment of receiving the flag, Colonel Romeo wasn't able to really hear his accomplishments, but he was worried about one thing.
"I heard my name being announced, but as far as the whole reading and everything else, I really couldn't hear anything else. Romeo continued on: "I guess the only thing I was wondering about...how do I do an about-face and when we march out on the field do I lead with my left foot or right foot?"
The flag was in Colonel Romeo's possession the entire game. While receiving the flag, emotions began to take shape.
"It's always a great honor to be recognized, I didn't take it so much as being recognized myself personally, but representing everyone that served in the armed forces currently and in the past." Romeo elaborated: "You don't want to screw up because again you representing your armed forces."
Ms. Romeo also mentioned how proud she was of her husband.
"It's actually quite impressive when we were finally going through everything, all the ribbons, and accommodations that he has accrued, I don't think I even knew half of them."
Andrea went on: "His career, in my opinion, was exceptional. He always gave 110% and was still very much there for the family...I was very proud and happy for him."
Tim Paradiso also found it unbelievable the moment was actually happening.
"Being the one recommending him and he deserves to be recommended...when it actually all came to fruition and it really did happen it was surreal."
While Colonel Romeo was very thankful, he wished for one more thing to have
happened.
"The only thing that I would say in retrospect to change would have been nice to have Andrea come out on the field with me, at least to be able to watch it there."
Paradiso and Romeo also joked about the game itself when the score was 14-7 in the favor of the visitors.
Paradiso remarked on his thoughts, "Man they can't lose on the night he gets the flag!"
Romeo followed up with thoughts, "Am I bad luck now?"
Through the laughter and tears of joy, it was certainly a special night in Tuscaloosa.
Top Stories of The Tuscaloosa Thread (10/18-10/22)
Famous Alabamians from A to Z (Almost)
Check Out these Famous People with Alabama Roots, from A to Z (Almost)
New Tuscaloosa Restaurants & Retail in 2021
The 2021 Alabama Football Schedule in Photos