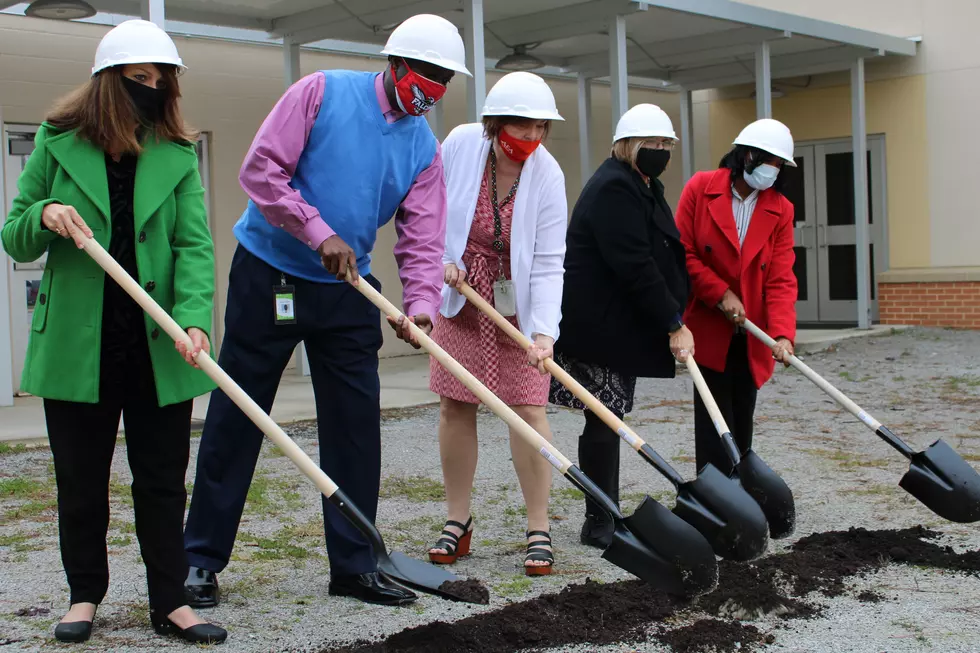 Central Elementary School Breaks Ground on New Outdoor Classroom
(James Benedetto)
Enter your number to get our free mobile app
It may have been cloudy at a groundbreaking ceremony at Central Elementary School Friday afternoon, but principal Jerry Collins forecast brighter days ahead as the school began construction on an outdoor classroom for social and emotional learning.
The school has already raised $15,000 for the project and will continue to apply for grants and seek charitable donations until they reach their goal of $50,000 for the new classroom.
"We're very excited about helping our boys and girls because a lot of times with the pandemic they don't go outside," Collins said. "But we do believe that someday with the passing of the pandemic, they are going to go outside and we want to have a structure in place to support social-emotional learning."
Central Elementary School underwent a $7.2 million renovation back in 2017 which updated electrical, plumbing and mechanical systems as well as building a brand new media center. The 8,600-square foot addition also serves as the school's library.
With the renovation, Collins said that the outdoor courtyard was left vacant and plans to upgrade that space began "a few years ago." The school has already begun working with a local contractor to engineer what the structure will be. Collins said that the school is also looking into a track with an overhead canopy as one of the options for the new classroom.
"[The classroom] is just a great place for our kids to go our teachers to go to incorporate science, math, reading and we are going to be able to incorporate all our speakers to come and do presentations so it's just going to be a great place for our teachers
and our students," Leigh Allen, Reading Intervention Teacher at Central Elementary School, said.    
For more information or if you are interested in donating toward the new classroom, check out the Central Elementary School's website.
Top Stories From The Tuscaloosa Thread (12/28-1/03)