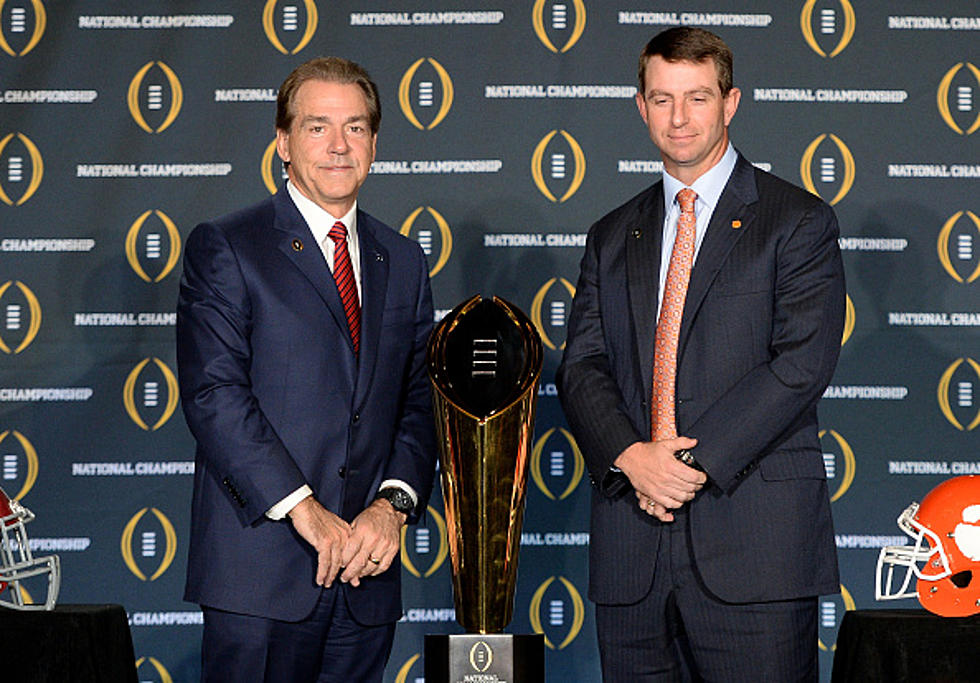 Alabama Makes the College Football Playoffs; Setting Up a Rematch with Clemson
Getty Images
The Alabama Crimson Tide had to wait the weekend to find out their postseason bid and the wait was worth it as the Crimson Tide makes it to the College Football Playoffs at the number 4 seed setting up a match-up with the Clemson Tigers.
The first three teams into the College Football Playoffs were no-brainers considering the strong performances in their conference championship games, but the debate for the fourth seed has been the topic of discussion between Alabama and Ohio State fighting for that final slot.
The Crimson Tide's only loss of the season comes to Auburn on the road, the Tigers would go on to lose to Georgia in the SEC Championship. The Buckeyes defeated two top-10 opponents in Penn State and Wisconsin in the BIG 10 Championship, but two losses in the season including losing to Oklahoma at home by double figures and a 31-point loss to 7-5 Iowa on the road.
The SEC Champion Georgia Bulldogs will play the BIG 12 Champion Oklahoma Sooners in the Rose Bowl in Pasadena, CA and the Alabama Crimson Tide will meet with the ACC Champion Clemson Tigers in the Sugar Bowl in New Orleans. This will be the third meeting between Nick Saban and Dabo Swinney in the CFB Playoffs.
Here are the top 6 teams of College Football Playoff rankings:
1. Clemson
2. Oklahoma
3. Georgia
4. Alabama
5. Ohio State
6. Wisconsin