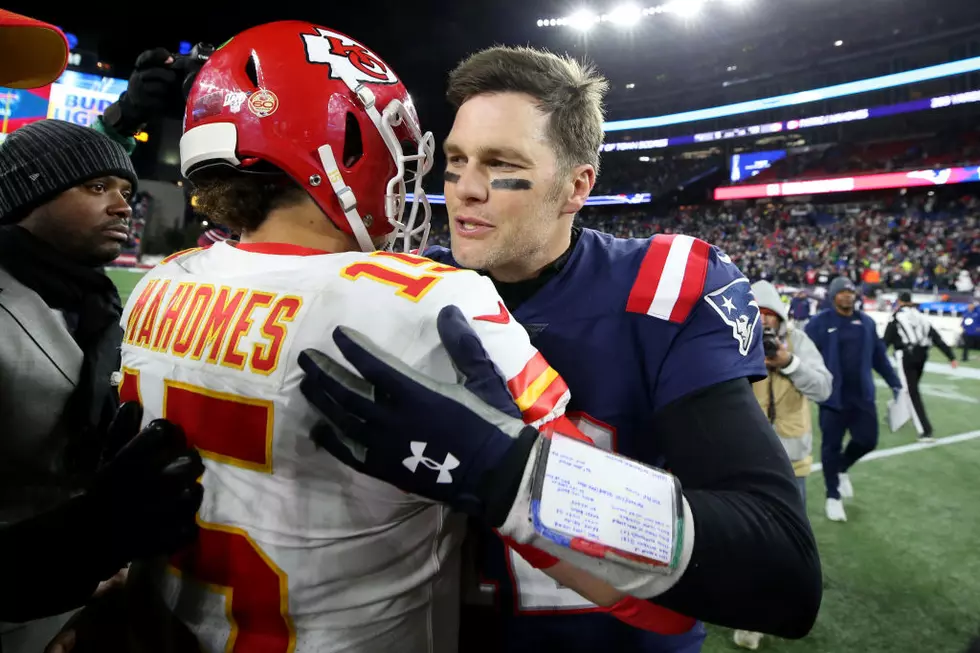 Wait! Mahomes Still Can Be The GOAT
Getty Images
Before the 31-9 blowout there were questions if Mahomes could reach Jordan's level of dominance in the sport. And there were and still may be some validity to those inquiries. But as Tom Brady reached the pinnacle of the sports world for the seventh time in ten tries, no questions were asked.
Many would say the conversation is over. Tom has proven over and over he's the one man in sports you don't bet against. He's beat Mahomes in the biggest moments, he's 43 years old playing at this level, he has more Super Bowls then any franchise in the sport. The GOAT title is sealed.
No more talk.
But is this not recency bias? Of course.
Brady is the GOAT now, but to say there's no chance for Mahomes to catch up is a false premise that's quite easily deconstructed. Even in this head to head battle, many say Patrick lost with more talent on his side. (Despite him being under more pressure than a single mother due to 2 missing offensive lineman. )
But where was this talk when Tom Brady lost to Eli Manning while having arguably the greatest receiver of all-time on his roster in Randy Moss, a Pro-Bowler in Wes Welker, and a top 5 scoring defense back in 2008?
I guess we already forgot when the Patriots where the favorites in 2012 and took the L to Eli for a second time too.
Michael Jordan is arguably the most transcendent athlete of all-time is remembered by his triumphs. The shots, the dunks, the stories, the shoes, and the legacy has been embedded in not only sports but in popular culture.
Larry Bird once called him GOD disguised as Michael Jordan. With the release of the documentary "The Last Dance" you could argue Jordan is a religion. Michael Missionaries such as Stephen A. Smith, Skip Bayless, and Max Kellerman would have you believe he never missed a shot, let alone a game winner. Or that he never lost in the big moments.
This romanticization of Jordan is forever rooted in the foundation of 6-0 (his finals record). But contrary to popular belief Black Jesus did in fact make some mistakes.
How soon do we forget about Jordan's failure to get out of the first round without Scottie Pippen? Or him being eliminated by a young Magic team headed by Penny Hardaway and Shaq in 95'. Do we forget he couldn't get past them bad boys from Detroit for 3 years straight?
Enter your number to get our free mobile app
In essence the path to greatness is pervaded by the trials and errors, missteps, and failures. These dark hues contrast the warm colors of celebratory moments, iconic performances, and history defining plays that make up the picture  of a career in it's entirety.
So why are we so quick to deny Patrick Mahomes' GOAT resume before it even begins?  What fun is a story with faultlessness. Doesn't the journey get's sweeter through the assortment of plot twists, let downs, and the ongoing ups and downs that are inevitable in the sports world?
Could Brady simply be to Mahomes what the Pistons were to Jordan?
Could Brady be to Mahomes what Eli was to him?
Or is Tom the undisputed GOAT?
Let's wait and see.
Alabama Football Players in the Hall-of-Fame