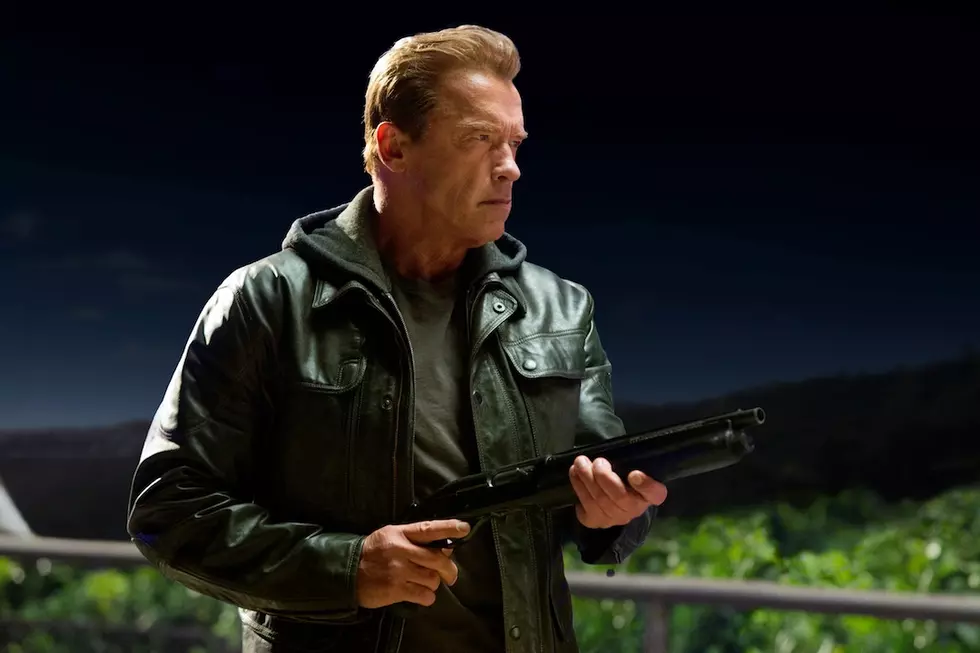 James Cameron and Tim Miller Have Been Working on a New 'Terminator' Trilogy in Secret For a Year
Paramount
There've been rumblings in the last couple months that James Cameron would come back to The Terminator, the series he launched in 1984, and participate in a new sequel (the fifth to date) some time in the near future. Then it was confirmed that Cameron and Deadpool director Tim Miller were collaborating on this Terminator 6, and that both Arnold Schwarzenegger and Linda Hamilton would both return to appear in the film and pass off the baton to a new generation of stars.
A wide-ranging interview with both Cameron and Miller in The Hollywood Reporter adds even more details, some of them very exciting. It turns out that the pair of filmmakers has been working "secretly" for the past year on Terminator 6, which will open in theaters on July 26, 2019. Their plans are very ambitious:
[Miller and Cameron] assembled a writers room with scribes David Goyer, Charles Eglee, Josh Friedman and Justin Rhodes as well as [producer David] Ellison, a lifelong Terminator fan (Cameron himself shows up once a week), and have crafted what they want to be a trilogy with Schwarzenegger, 70, and original star Linda Hamilton, 62, passing the torch to a young female lead.
Miller and Cameron also joked that Hamilton is going to beat up Liam Neeson in the sequel, although I would not expect that to actually happen. Cameron said that they were looking for an "18-something young woman" to anchor the series into the future, and that Terminator 6 will be "a continuation of the story from Terminator 1 and Terminator 2. And we're pretending the other films were a bad dream. Or an alternate timeline."
Which is what Terminator Genisys did, and that worked out perfectly well! Genisys was also supposed to be the first movie of a trilogy. Not so much. But if Terminator has taught us anything, it's that history repeats itself over and over until the machines rise and destroy us all.
The 50 Best Action Movie Posters Ever: