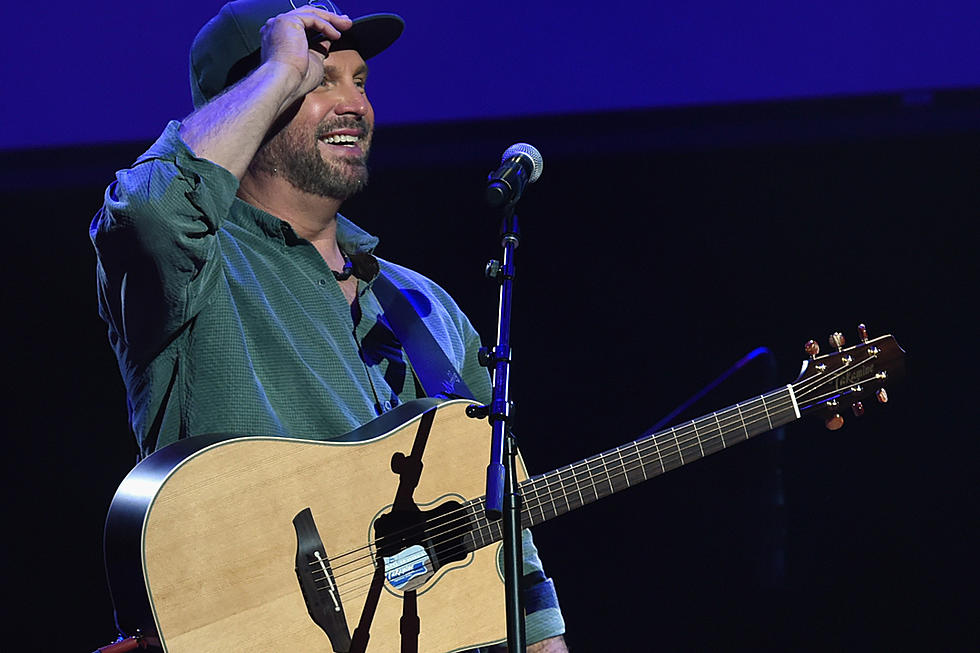 4 Little-Known Stories of Garth Brooks' Biggest Hits
Rick Diamond, Getty Images
Garth Brooks surprised Nashville with an in-the-round performance at Nashville's Bluebird Cafe on Monday night (Oct. 17). Joining him were four writers responsible for some of his biggest early career hits, and they brought stories.
Pat Alger ("The Thunder Rolls," "What She's Doing Now"), Kent Blazy ("If Tomorrow Never Comes," "Ain't Goin' Down"), Victoria Shaw ("The River") and Tony Arata ("The Dance") joined Brooks at the famous venue, telling stories behind some of his biggest hits and at times roasting the country music superstar. He took it in with a smile and often a few tears — several times throughout the 90-minute acoustic performance Brooks could be found with eyes closed, leaning on his guitar, smiling at an old memory.
The performance served as an official kickoff for the pre-sale of his new book The Anthology Part 1. The book covers a lot of firsts, including his first time leaving home for Nashville, his first No. 1 hit, his first time hearing himself on the radio and the first songwriters he befriended. Many of those men and women are still friends today. The hardcover book (available Nov. 14) also features 150 photos and five CDs filled with 52 tracks.
Nobody liked "Vessel."
Writer Victoria Shaw recalls several people tried to talk him out of using the word "vessel" in "The River." "I will sail my vessel / 'Til the river runs dry," he sings.
"Everybody tried," Brooks quipped, "but try to sing it with 'boat.'"
"The Thunder Rolls" was inspired by a Kathy Mattea song.
Brooks brought the idea of this song to writer Pat Alger. He was inspired by a lyric in a song called "Like a Hurricane" that Alger had written for Kathy Mattea. "Day dawned bright in the Shenandoah / The sky's a cool clear mountain blue / But in my heart there's a thunder rollin' / Storm of love that was untrue," she sings.
The pair pitched the song around town a bit, and Tanya Tucker was very interested in recording it. It was her producer Jerry Crutchfield that called the writers back and told them to write a third verse that killed a man. That ultimately became the controversial verse everyone wanted to hear.
Tucker would go on to cut the song, but not release it until after Brooks did.
"The Dance" was writer Tony Arata's first cut.
Writer Tony Arata hadn't been long in Nashville when Garth Brooks cut "The Dance." "I was loading trucks at UPS and you were doing construction," he recalled.
"You couldn't miss," Alger cracked from nearby, and the room broke into laughter. Throughout the night, more stories of Brooks' humble beginnings would emerge.
"It was just a matter of time," Arata added. An early performance of "The Dance" at the Bluebird Cafe was an important part of Brooks' career.
"Ain't Goin' Down" uncovered a serious termite problem.
A drum machine helped Blazy, Brooks and Kim Williams build "Ain't Goin' Down." As the men were working the track out in Blazy's new basement, termites starting pouring out of the floor, walls and ceiling. "I guess the drum machine pissed 'em off," Blazy says.
Afterward Williams had serious fears about Brooks trying to recreate their rapid-fire lyrics in studio and on stage, so he took an oxygen mask to the studio to help. "I think Garth got it in one take anyway," Blazy says.
Most Unforgettable Garth Brooks Moments