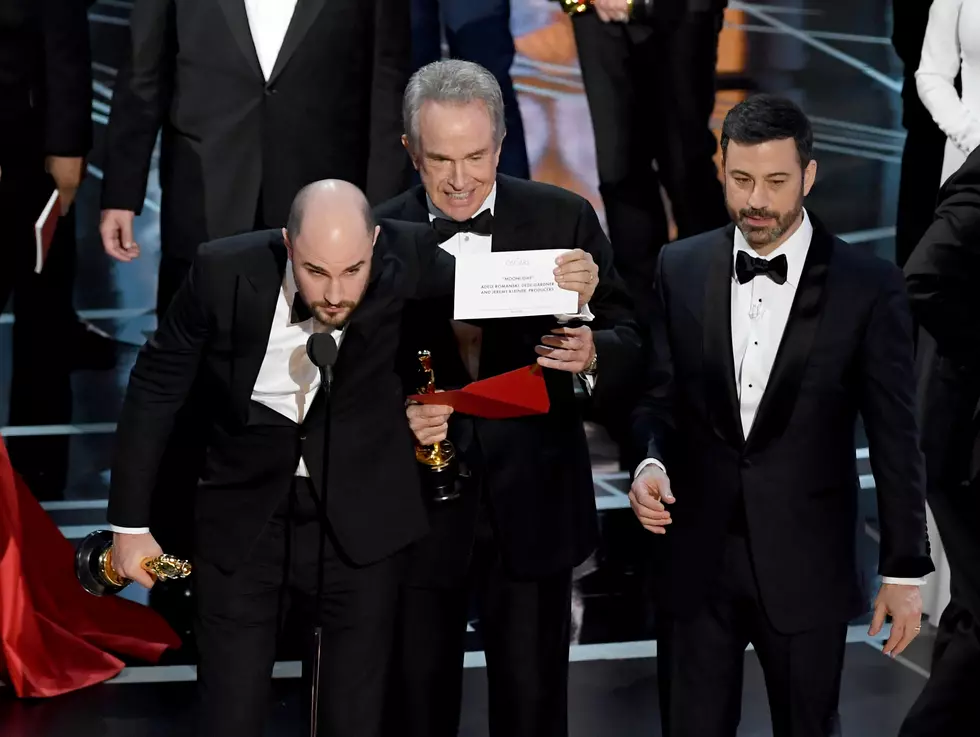 Here's How the Oscars Will Avoid Another Best Picture Envelope Gaffe This Year
Getty Images
No one will ever forget it: the time the Oscars gave Best Picture to the wrong movie, then took a whopping two minutes to correct the error. It was the type of mind-boggling surprise you'd never see coming, especially if you were one of the PricewaterhouseCooper partners who was too busy taking photos of Emma Stone backstage to uh, double-check he gave away the correct envelope. But the Academy is aiming to avoid a recreation of last year's Best Picture gaffe at all costs, even if it means printing an extra set of envelopes and banning cell phones for PwC accountants.
Tim Ryan of PwC, the accounting firm that handles Oscar ballot tabulation, told The Associated Press that the company has set new rules to ensure another embarrassment doesn't go down. Some of these rules are just common sense – like the very simple rule of having a plan in place in case something goes wrong. There clearly was no such plan for it last year, or in previous years, as evinced by a HuffPost piece that, in a hilariously odd coincidence, practically predicted the snafu. In it, HuffPost asked Brian Cullinan and Martha Ruiz, the PwC partners responsible for the mix-up (although it sounded like Cullinan was the one who messed up, not exactly Ruiz) what would happen if the incorrect winner was announced; at the time their response was pretty much, "Yeah, nah it won't happen."
While those two are still working with PwC, their stage-side duties have since been replaced with two new partners, Rick Rosas and Kimberly Bourdon. Usually those are the only two people with the winners envelopes, and the two who must alert stage managers if something should go wrong, but this year, a new rule is adding a third person to the mix. A third person, with a third set of envelopes (just keep making more envelopes, that will certainly solve the problem!) will be in the control room. Cell phones and social media use by balloting partners is now prohibited, and due to last year's embarrassingly slow response time, Ryan says all the partners will practice what-if scenarios during rehearsals. There is also a new "formal procedure" in place for when envelopes are handed over, described as such: "Both the celebrity presenter and a stage manager will confirm that they've been given the correct envelope for the category they are about to present." Um, why was this never the protocol in the first place??
So all of these changes mostly amount to 'pay attention and do your job.' But honestly, I bet most of the PwC partners and backstage folks at last year's ceremony were indeed doing their jobs in the first place; there were just two people, the only people who knew the correct winner, who weren't (and one of them too busy tweeting about Emma Stone to notice). As hilarious and fun as it was to investigate every piece of envelope-gate and GIF all the audience pearl clutching, I doubt another mix-up will happen any time soon. But how crazy would it be for, say, Three Billboards Outside Ebbing, Missouri to win only for Get Out to be crowned the rightful winner? Don't mind me, just throwing Jordan Peele all the good luck vibes I can.
The 2018 Oscars will air on ABC on March 4 at 8:00 p.m. ET. Stay tuned for the Oscar nominations when they're announced Tuesday morning.
Gallery – Terrible Movies That (Somehow) Won Oscars: