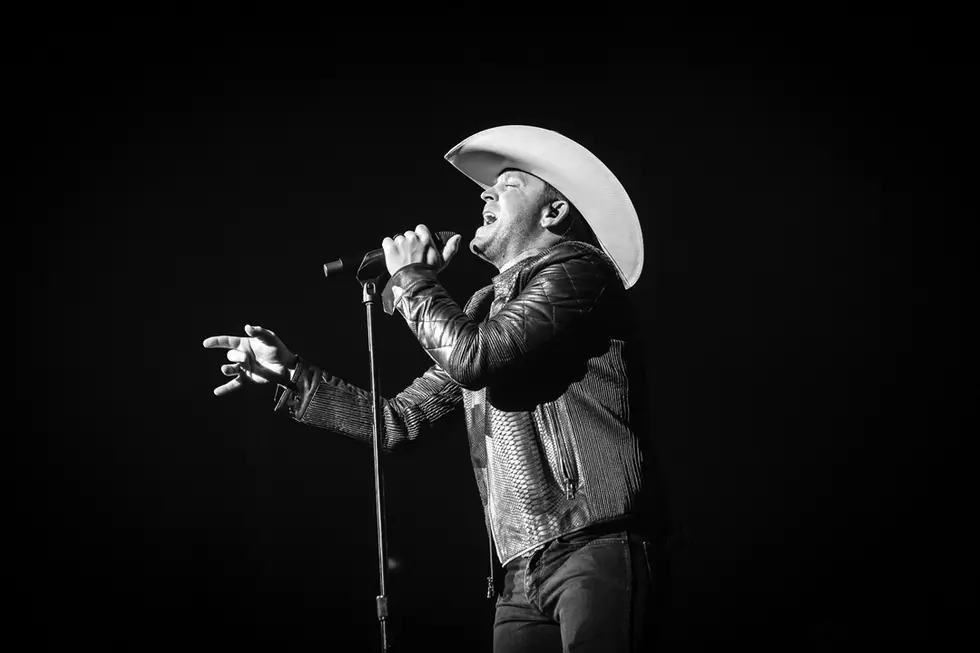 Justin Moore's Ryman Show a Subtle Tribute to Country Legends
Jason Kempin, Getty Images
Justin Moore didn't forget his history during his first headlining show at Nashville's Ryman Auditorium. In addition bringing two legends onstage, he saluted the greats during original songs and covers.
If you drank a beer for every Hank Williams Jr. reference, you'd have needed to Uber home on Wednesday night (May 2). Starting with the opening track "Hank It" and continuing through name-drops on "Flying Down a Back Road" and a cover of "Country State of Mind" (with Chris Janson, who shares a love of Bocephus), Moore proved his gratitude for the Hank and the other men who played the hallowed stage before him was sincere.
David Lee Murphy bounced out to cover Waylon Jennings' "I Ain't Living Long Like This" with Moore, rarely taking his eyes off the more energetic headliner as he worked his way through his verse and chorus. If the "Dust on the Bottle" singer seemed out of his element, then Ricky Skaggs definitely did not. Country music's most recent Hall of Fame inductee brought the Whites to sing "Honey (Open That Door)" with Moore. It was an unexpected, but delightful bluegrass injection into a show that relied mostly on country music and rock.
Earlier in his set, Moore spoke with hat in hand about his appreciation for those who've helped him get more than 10 years deep into a career that few outside of his inner circle would have predicted. On his mother's birthday, he revealed how she and the singer's father, Tommy, let him know he could do anything he wanted, and that growing up in a town of 300 was an asset, not an obstacle. Clearly the message stuck — Moore and his wife are raising his four kids in that small town (Poyen, Ark.) today. The population is still about 300, he says.
The sold-out Ryman crowd likely left talking about the guest appearances, but they bought the ticket for the hits, and Moore delivered all of them during his first-ever headlining show at any venue in Nashville. Strung together, one gets a sense as to how he became a platinum-selling, arena-headlining star while keeping a low profile. Lyrically his themes rarely deviate from topics of family, faith, love and the outdoors, but he lets his guitarists drive the pace to create tracks that are anthemic. "Bait a Hook," "Til My Last Day" and "You Look Like I Need a Drink" are three that open with immediately identifiable guitar riffs helping to create songs you stand up to hear live.
Many of his fans never sat back down. The 34-year-old draws a unique mix of older traditionalists who appreciate his dedication to a classic country sound from a seated position and young revelers eager to hoist a beer and (maybe) unbutton their flannels. This combination results in fans who enjoy the show in their own ways, but keep the venue full until the very last song.
Tyler Rich opened the show with a short acoustic mix of songs before Travis Dennings' high-powered, rock and blues-inspired set that was highlighted by an inspired version of the Allman Brothers Band's "Whipping Post." This experienced, Georgia born-and-raised newcomer no doubt made a few new fans with his sharp, relentless set.
Country Music Is In Good Hands With These 18 Singers!