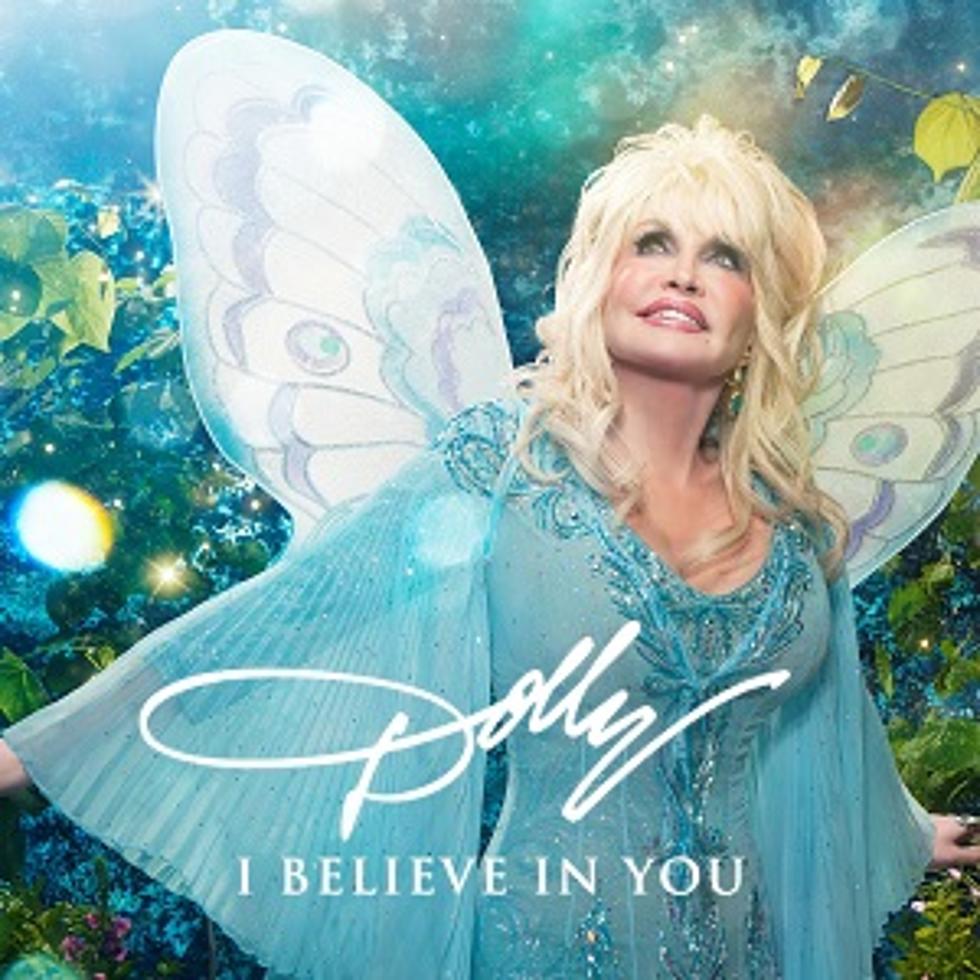 Interview: Dolly Parton Achieves a Career First With New Children's Album
Dolly Records / RCA Nashville
Dolly Parton has released dozens of albums, appeared in a number of movies and TV shows, written a book and become a successful businesswoman and a generous philanthropist. But one thing she hasn't done is release a children's album -- until now. On Friday (Oct. 13), the country music icon released I Believe in You, in honor of the millions of children she has touched through her benevolent Imagination Library.
"I should have done it years ago," Parton tells The Boot. "I've been writing all these songs for years through the Imagination Library, and every time we give out a book to the children, I usually write a song about whatever the theme of the book is. So I've accumulated all these songs, and I've got all these nieces and nephews and all these kids that I play with all the time. And then we had success with Coat of Many Colors, the movie, the first one, and then the Christmas of Many Colors, and we had a lot of kids and a lot of new fans."
Parton considered turning her children's songs into a musical, until she found out the Imagination Library was about to give out their one hundred millionth book. Instead, she decided to make them into a children's album.
"It's Christmas time, and it would make a good present," Parton adds. "All the money goes to the Imagination Library to get more books for more kids."
I Believe in You is geared toward the younger generation, but its songs aren't just silly, sing-a-longs. Parton describes the record as "fun" and "uplifting."
"I wanted to always write songs that give children some direction. They've got their parents and their grandparents, but at that age, they love to watch television and hear the music and all that. These songs all have a message, and they're singable, but there are little lessons in there too," Parton explains. "There's a song called "Responsibility," and it talks about being responsible, but it also spells the word. Then there's one called "Making Fun Ain't Funny," about bullying. And so all the songs have a message and they're something that catches their attention that they can learn from, so hopefully after listening to the album, they'll be a little smarter than what they were before."
Dolly Parton's Best Quotes
Parton's first album, Hello, I'm Dolly, was released 50 years ago, but she still finds children, even those who aren't familiar with her music, pulled to her like a magnet.
"I'm like Mother Goose," shares the 71-year-old. "One of the reasons I think kids are drawn to me is because I have a small voice and I laugh a lot, and I have a good time. I think they feel the joy. And I'm over-exaggerated in my look. I look like Mother Goose or Cinderella -- kind of a fairy godmother or fairy grandmother. So I think I hold their attention, but then, hopefully, I have a message for them.
"I grew up in a big ol' family of kids, and I'm very close to all my brothers and sister and nieces and nephews," Parton continues. "I just have that childlike spirit in me, and I think they know I'm a playmate."
Ironically, it wasn't Parton's love of children as much as her love for her father that inspired her to create Imagination Library -- which gives children a free book every month from the time they are born until they are 5 years old -- 22 years ago: "I started it because of him, because Daddy couldn't read or write, and he was ashamed about that," Parton says.
"He thought that he was too old to learn, so he was embarrassed to take the book and try to learn to read. So I thought, 'I want to do something for my dad, because he's the smartest person I know.' So I got him involved with me.
"He got to live long enough to see it take off, and hear the kids call me the Book Lady, and he was part of it," Parton adds. "It made me proud, and he was proud, so it's very personal to me."
Dolly Parton Through the Years
Now that Parton can cross a children's album off of her to-do list, she isn't quite sure what her next step will be. But one thing is certain: The Tennessee native won't be riding off into the sunset anytime soon.
"I've been trying to think about what to do," Parton admits. "I've been really leaning towards doing something where I can do something to uplift people, whether it's a gospel album or songs that are really inspirational in nature in this day and time, because I really think we need it. Lately I've been writing a lot of that type of stuff ...
"In my early days, I did a gospel album, back in -- right in the very early days of recording, back in the '70s, early '70s," she continues. "But I've always wanted to do a bigger inspirational album since then. So maybe that's it. Or a pure country record."
Always an optimist, Parton says she knows she won't have to look hard to find inspiration for her next project, whatever it may be.
"Even the bad things inspire me to do something about it, or write about it, try to bring a little more joy, a little more light," explains Parton. "I'm not a religious fanatic by any means, but I'm very spiritual. I pray all the time. That's my strength, too, to have that faith and keep it, keep myself anchored. I always pray that I can do something to glorify God and uplift people, and that's my vision. It's worked that way through the years. You can't ever do everything right but you try your best."
11 Unforgettable Dolly Parton Moments