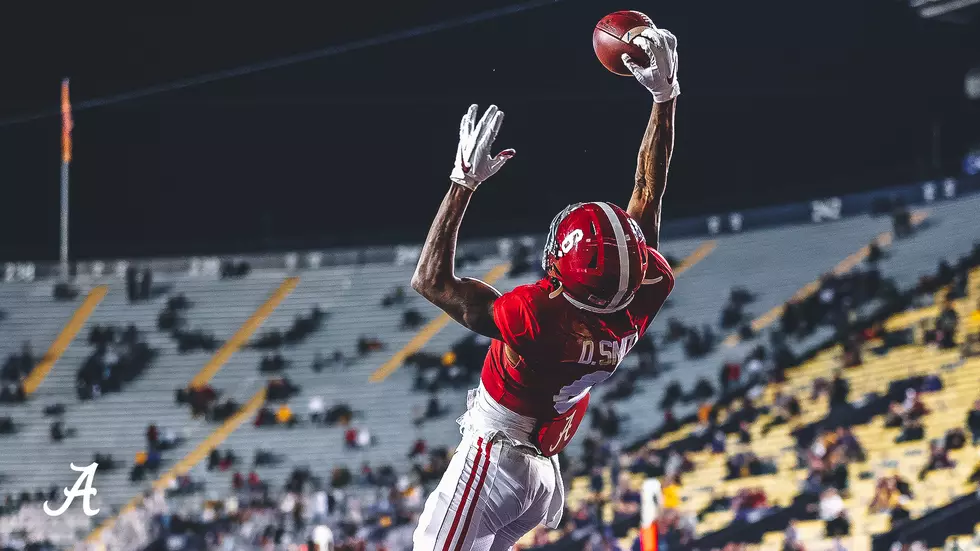 Desmond Howard Says DeVonta Smith is The Best Pass-Catcher in The Draft
Photo Courtesy of @AlabamaFTBL
In a talented group of pass-catchers in this year's NFL draft, ESPN's Desmond Howard says DeVonta Smith is the best of the bunch. Howard has Smith ranked ahead of Florida tight end Kyle Pitts and LSU wide receiver Ja'Marr Chase.
"The biggest knock on him is that he only weighs about 170 or 172 pounds," Howard said. "So people are afraid of his slight, little frame, but no one questions his productivity on the gridiron."
"I played against some of the best in college," Smith said. "I played in the SEC. I feel like it's the toughest conference there is. I know a lot of people that's bigger than me that have more problems than me, so I'm not worried about it at all."
The Louisiana native carved out one of the greatest careers for a wide receiver in college football history. In his four seasons at Alabama, Smith reeled in 235 receptions for 3,965 yards and 46 touchdowns in 47 games. He is the only receiver in SEC history with multiple career games totaling four or more receiving touchdowns. Smith owns the Alabama and SEC career record for receiving touchdowns. His 46 career touchdowns are also the most by a Power 5 receiver in FBS history.
Last season, Smith became the first wide receiver to win the Heisman since Howard won the prestigious award back in 1991 and the first wide receiver ever to win the Associated Press Player of the Year award. He also won the Biletnikoff, Walter Camp, Maxwell and Paul Hornung awards, and brought home SEC Offensive Player of the Year honors.
"While Atlanta Falcons WR Calvin Ridley is my NFL comparison for Smith, I feel like a better comp might be Golden State Warriors superstar Steph Curry," said NFL.com's Lance Zurlein. "Like Curry, Smith is thinner than you'd like and isn't the strongest player, but he has rare quickness, speed, and change-of-direction fluidity, and he creates separation from defenders seemingly at will. He possesses an elite skill level for the position and can hit the defense from short, mid-range or deep."
The NFL draft will begin this Thursday, April 29th and air on ESPN.
KEEP READING: What to do after a tornado strikes