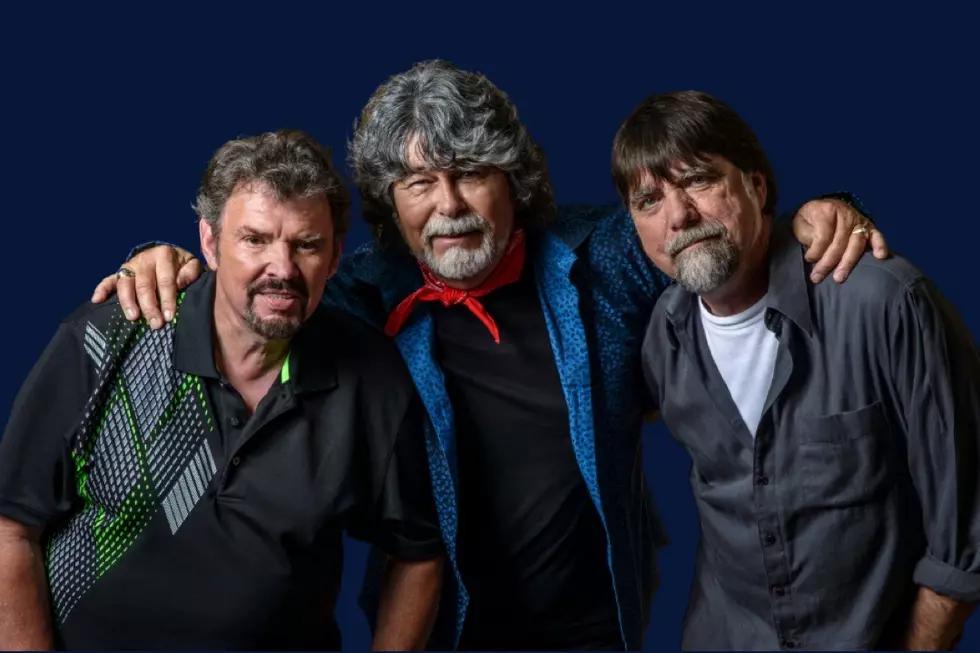 Photo courtesy of Absolute Publicity
When Alabama rolled onto the scene, there were very few bands in country music that had commercial success. They shattered all of those rules, rolling out decades of hits that we're exploring in this list of the Top 10 Alabama songs.
Up until that time, country music had only accepted vocal groups like the Statler Brothers and the Oak Ridge Boys. In retrospect, Alabama did for bands what Kitty Wells did for female singers in the '50s — they broke through the barriers and paved the way for more bands like Sawyer Brown, Restless Heart, Highway 101, Diamond Rio and Rascal Flatts to be embraced by the country community.
Alabama scored their biggest hits across a variety of styles, including uptempo rock-country, ballads and more traditional fare. We're taking a look back at great songs, including "Feels So Right," "Mountain Music" and "The Closer You Get" that dominated FM playlists in the '80s.
Enjoy the memories of our Top 10 Alabama Songs. Co-founder Jeff Cook died Monday, Nov. 7, 2022 at the age of 73.
10

After the release of a few independent singles and many years of performing in small clubs in Myrtle Beach, S.C., the little band from Fort Payne, Ala., were finally on their way to the top in 1980. "Tennessee River," which was released on RCA Records, became the band's first No. 1 single. After years of practice and paying dues, little did they know what was ahead, as the song would be the first of 21 consecutive No. 1 singles -- not counting "Christmas in Dixie" and a Top 10 duet with Lionel Richie on "Deep River Woman." The group broke the long-standing record held by Sonny James, who had 16 consecutive No. 1 singles in the '60s and '70s. Alabama's first No. 1 single is the best way to kick off our list of the Top 10 Alabama songs.

9

Starting their career in 1969 under the name Young Country (later changed to Wild Country), Randy Owen and his cousins Teddy Gentry and Jeff Cook were actually thinking of quitting in the late '70s, discouraged that they were not having any national success. During this time, Gentry and Owen wrote "My Home's in Alabama," with the song meaning that they had a "home" in the group Alabama. The song helped recharge the group, and in 1979 they landed their first Top 40 hit, "I Wanna Come Over," followed by their first Top 20 hit, which ended up being "My Home's in Alabama."

8

Written by Exile's J.P. Pennington and Mark Gray, "The Closer You Get" earned Alabama their second Grammy award for Best Country Performance by a Group in 1983. The song continued to show the diversity of the band that initially broke through with traditional sounding hits like "Tennessee River," "Old Flame" and "My Home's in Alabama." By the time this single was released, the band were gaining crossover airplay on adult contemporary radio stations that also played "Love in the First Degree," "Feels So Right" and "Take Me Down."

7

"Forty Hour Week (For a Livin')"

Saluting the average overworked and underpaid American, Alabama once again found success with another song targeting the blue-collar fan base that was buying their records and cassettes. "Forty Hour Week (For a Livin')" recognized auto workers, coal miners, steel mill workers, construction workers, firefighters, mailmen and "everyone who works behind the scenes." With the success of the song, you could tell that farmers, waitresses, policemen and store clerks appreciated the long overdue praise. The Dave Loggins, Don Schlitz and Lisa Silver composition is a must on our list of the Top 10 Alabama songs.

6

"If You're Gonna Play in Texas (You Gotta Have a Fiddle in the Band)"

When Alabama started touring nationally, they were shocked when they played in Texas clubs. They were confused over the reception of the crowd, because people were dancing and not listening to their songs. Concerned that they were bombing, they were reassured by their record company that it was just a regional reaction. They quickly learned that if people were dancing to your music, not just listening, you were actually a hit in Texas. Learning of the experience, songwriters Dan Mitchell and Murry Kellum went to work and created "If You're Gonna Play in Texas (You Gotta Have a Fiddle in the Band)" specifically for Alabama.

5

Released in 1993 just as Alabama's commercial success was starting to cool, "Angels Among Us" took on a life of its own thanks to the inspirational message by songwriters Don Goodman and Becky Hobbs. The song was originally released as a Christmas single, but because of the overwhelming response from listeners and fans, it was eventually played year-round. In addition, the song has been used in many fundraisers and campaigns for St. Jude Children's Research Hospital. Since Randy Owen actually co-founded the Country Cares for St. Jude Kids Radiothon, it's only fitting that this song that has touched so many lives be included on our list of the Top 10 Alabama Songs.

4

By the time "There's No Way" became a No. 1 hit in 1985, Alabama had already earned three CMA Awards for Vocal Group of the Year and three consecutive honors as the CMA Entertainers of the Year in 1982, '83 and '84. Once again, the band found another love song that would soar to No. 1 and help them stay on top as one of the hottest acts in music in the mid-'80s. "There's No Way" this song would not be on our list of the Top 10 Alabama songs.

3

"Roll On (Eighteen Wheeler)"

Part of Alabama's appeal was that they sang songs for the average blue-collar American. One of their hard workin' hits honored truck drivers with the story of "Roll On (Eighteen Wheeler)." Penned by '70s pop star Dave Loggins ("Please Come to Boston"), the song follows the story of an over-the-road truck driver who tries hard to support his wife and three children. The 1984 smash became an Alabama staple and an instant singalong at live shows.

2

Another No. 1 hit penned by lead vocalist Randy Owen, 1981's "Feels So Right" was a classic Alabama love song. As the supergroup filled arenas in the early '80s, it was songs like these that had thousands of fans holding up cigarette lighters high in the air as the romantic lyrics swayed the crowd. Alabama would deliver other classic love songs like "When We Make Love," "Forever's as Far as I'll Go" and the 'N Sync collaboration, "God Must Have Spent a Little More Time on You."

1

If you could only play one song to introduce someone to the music of Alabama, the obvious choice would be "Mountain Music." Penned by frontman Randy Owen, the song takes the listener on a sentimental journey back to the good old days with an infectious rockin' country melody. The song won the group a Grammy for Best Performance by a Group in 1982. In 2011, the song was used as part of Brad Paisley's hit "Old Alabama," with the original members performing their signature lines from the song.