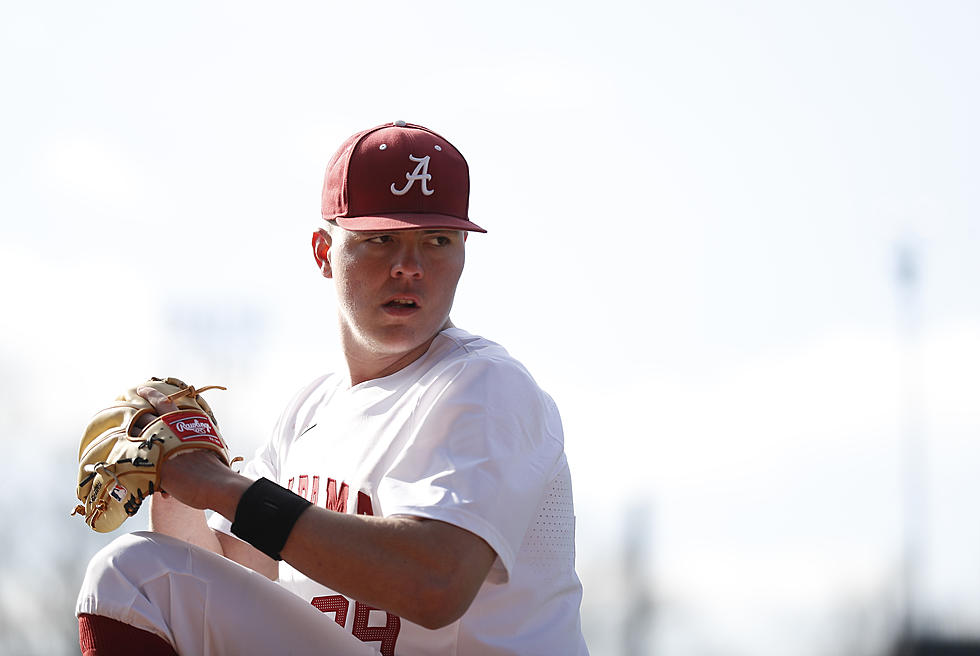 Alabama Pitching Keeps it Close in Loss to the Longhorns
Crimson Tide Photos / UA Athletics
After a long pitching battle in the windy weather between the Tide and Texas's two starters, the No. 1 Longhorns came out on top after putting up a run in the bottom of the seventh inning.
Texas earned its lone run against Alabama reliever Dylan Ray. Ray gave up a single to Texas third baseman Skyler Messinger and hit shortstop Trey Faltine with a pitch. A passed ball and a wild pitch that followed allowed the Longhorn runner to score before Ray was able to get out of the inning.
Ray completed two innings giving up the one run, the one hit by pitch, and two hits and striking out four batters.
When asked about the game, coach Brad Bohannon still seemed happy with the effort his team gave and its ability to go toe to toe with the top ranked team.
"I was really pleased with the way our kids competed tonight against the No. 1 team in the country. Garrett McMillan gave us a great start. It was very difficult for both teams to hit in these weather conditions. We had our chances, but their pitchers made some great pitches in key moments," said Bohannon.
Alabama junior starter Garrett McMillan came out strong in his second appearance and pitched six innings of zero-run baseball against Texas, giving up three hits, two walks, and earning three strikeouts on 87 pitches.
Left fielder Tommy Seidl had two hits on the day coming early in the game and accounted for two of the 12 runners the Crimson Tide left on base. Alabama loaded the bases twice in the game with two outs but came up short both times at the plate.
Texas starter Pete Hansen put up five innings of zero run ball against the Bama hitters before three Texas relievers came in and sealed the game for the Longhorns.
Alabama finished the day with seven hits and four walks and struck out 11 times, but ultimately couldn't plate any of its runners to gain the advantage in a close first game over Texas. The Crimson Tide will have Antoine Jean stepping onto the mound as it goes up against the Longhorns a second time at 1:30 p.m.
You can always stay up to date and not miss a minute of the action on Tide100.9FM as we carry live coverage on our station for each and every Bama Baseball game.
Alabama Baseball's Career Batting Average Leaders
Alabama Crimson Tide Baseball Strikeouts Leaderboard
Look back on Alabama's top 10 strikeout artists in program history.
Alabama's Top 10 Athletes - Fall 2021
The Alabama Crimson Tide boasts an extremely successful athletic department with amazing athletes playing multiple sports. The top 10 athletes include national champions, an Olympic athlete, SEC champions and various record holders.