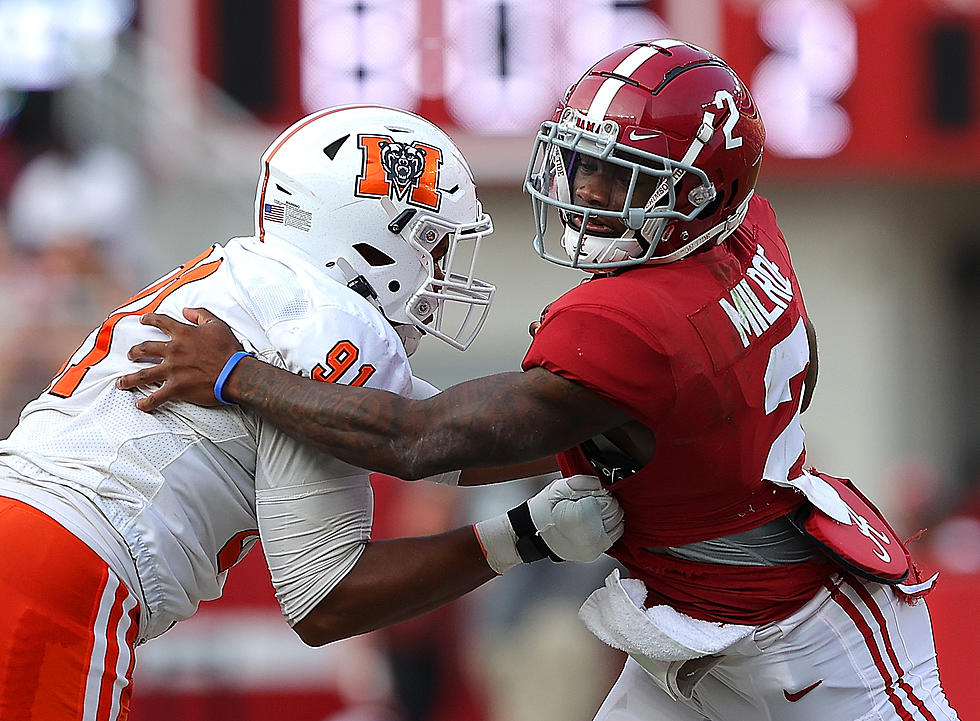 AJ Spurr: Unstable Offense Breeds Inconsistency on Alabama O-Line
Getty Images
The Alabama Crimson Tide Football season is off to an interesting start. After a dominant win over Miami, many Tide fans were certain that a game against Mercer would be a cakewalk.
However, while the final score was 48-14 in favor of the Tide, the game itself raised questions on the team's focus. A slow start in the game against the Bears is now making Tide fans wonder how the first SEC Matchup of the season will go.
To talk about what seemingly went wrong for Alabama, Jacob Harrison of Tide 100.9's Off The Edge welcomed AJ Spurr of Roll Tide Wire to the program to hear his thoughts on the matter of Alabama's last game.
Spurr was not entirely pleased with the Tide's performance against Mercer but has high praise for one of Alabama's biggest assets: the defensive line.
"I think that the offensive line needs some stability, I think consistency is key," Spurr said. "One thing that was solidified in my mind, the defense is elite...the defense was really the star of the show for the first quarter."
As Alabama moves into the SEC schedule, Spurr is hardly breaking a sweat about potentially tougher competitors.
"I think it's a whole lot of rat poison," Spurr said. "I'm not concerned; I don't think there's any reason to be concerned about this team. Overall, I think this was a learning experience."
But it wasn't just college football the two talked about; the NFL also came up in conversation. After Alabama alumnus Mac Jones – who's under center for the New England Patriots – took on former teammate and current Miami QB Tua Tagovailoa in week one, Spurr elaborated on Jones' debut in the pro league.
"I think Mac Jones did a great job in his debut in the NFL," Spurr said. "I think the AFC East should be a bit concerned."
For more interviews and content from Off The Edge, be sure to check out the Tide 100.9 Soundcloud.
Where do the 6 Alabama Football Championship Logos Rank?
The 2021 Alabama Football Schedule in Photos
How Do Fans Sing 'Dixieland Delight' in Tuscaloosa, Alabama?
Alabama football fans add
a few extra lyrics
to 'Dixieland Delight' when it's played on the speakers in Bryant-Denny in Tuscaloosa, Alabama. What are they singing? And Why?
Here's Why Every SEC Team is Inferior to Alabama